We are thrilled to announce the opening of our upcoming exhibition, "L'Esthétique". Join us at the opening on April 22 for an unforgettable evening filled with an array of visually stunning and inspiring artwork on display.
Mash Gallery invites you to our latest exhibition, "L'Esthétique," – an artistic wonder and a breathtaking fusion of the ever-evolving field of fine art and interior design. 
From large scale pieces to more intimate works, "L'Esthétique" presents a meticulously curated collection and offers collectors and designers the opportunity to infuse their space with character, energy, and personal style. 
Whether you are a seasoned collector, interior designer, or an art enthusiast seeking inspiration, this exhibition is not to be missed.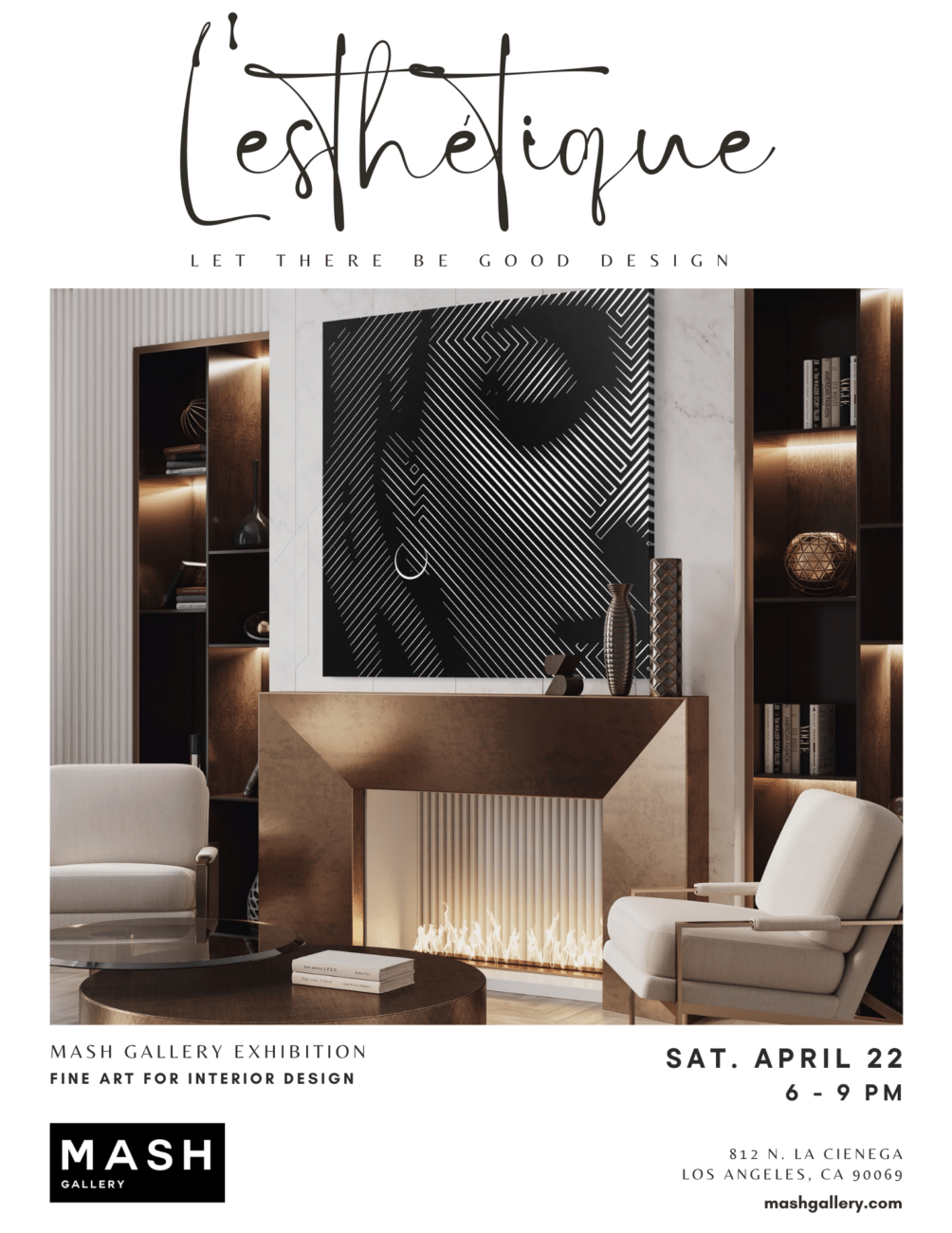 Curator's Statement:
"I find immense inspiration in the intersection of interior design and art. The significance of good design cannot be overstated; it enriches our lives, elevates every moment we spend in our surroundings, and promotes our overall well-being.  From an elevated and inspired vantage point of weaving art and design together, we have the power to radiate our inner and outer beauty, enriching the lives of those around us."
-Haleh Mashian, Curator & Founder of Mash Gallery
"L'ESTHÉTIQUE" OPENING EXHIBITION PHOTOS

F E A T U R E D  A R T I S T S
ANTHONY LIGGINS 
Miami based artist Anthony Liggins is best known for his dreamlike, abstract artwork and his process in multi-layered painting. The creativity that spurs from his successful 12 years as a fashion designer carries into his current work.
"I am a citizen and artist of the world. I may hang my hat in the southern United States, but my art is informed and revealed by the composition, colors and flavors of the world I live in. I like taking people on a journey, captured in a moment of time when their eyes connect with my artwork.
I am just a messenger, here to motivate and stimulate through technique, color and imagination. With that thought, if you look with an open mind, you will see the message that is up for interpretation." – Anthony Liggins
BRYAN RICCI
Bryan Ricci is an award-winning artist based in the United States whose paintings have been exhibited both nationally and in Australia. He cites the emphasis on color theory as being the constant element in his works throughout his career. For Ricci, "color is the most powerful aspect of painting". Employing raw pigments, acrylics, and resin, as well as other materials such as sand, he incorporates texture into his pieces in order to "push past the image".
CHRISTY HOPKINS
Christy Hopkin's artistic process is truly unique, as she creates her paintings gesturally in time with music and dance. The result is a dynamic explosion of energy and movement, captured with broad brushstrokes and vibrant colors on the canvas. The layers of paint build up over time, creating endless textures and overlapping patterns that lend depth and complexity to the artwork. Each new layer transforms the work and takes it in a new direction, making the layer-making process critical to her art.
HALEH MASHIAN
For over 30 years, Haleh Mashian's art has colorfully illustrated her unique, insightful view of the world, both real and imagined. As a creative expressionist, Mashian's art embodies her enchantment with color, composition, and the interplay of positive and negative space. Working in mixed media and using a variety of techniques from collage to impasto. Mashian creates a range of dynamic pieces in various sizes to accommodate the residential, retail, and hospitality markets.
"Let there be good design. Beauty is important. All you need to do is look at nature and the beauty and abundance its offers. It is an innate desire for any individual to surround herself or himself with beauty."
JILL DANIELS
Jill Daniels is a Los Angeles based art director, visual storyteller, producer, and painter. Born in Fairbanks, Alaska, Daniels has been drawing and painting from a young age. Her work has since been featured in design magazines, and has been shown and collected worldwide. Daniels' artistic skills have also translated to a successful career working as a visual development artist with entertainment studios.
KENNY NGUYEN
Kenny Nguyen is a mixed media artist whose work focuses on using cultural-rich materials, as a means to explore personal identity, integration, and cultural displacement. Nguyen was born and raised in South Vietnam. He went to Vietnam National University of Art and Architecture for BFA in Fashion Design. Nguyen creates "deconstructed paintings," – large, silk fabric works that are comprised of cut up strips, which he paints and applies onto the canvas.
LAYDA RODRIGUEZ
Mexican artist Layda Rodriguez is a self-taught artist who works with a wide palette of acrylic paint, oil, alcohol ink, asphalt, colored pencils on canvas. She is constantly experimenting with different techniques and forms of representation. She embodies chromatic resolutions with natural rhythms of the soul, which flow and spread in each of her abstract, expressionist and figurative pieces.
"My art is an impulse of creativity, I like to contemplate each work until I feel complete satisfaction and happiness."
ROBERT STANDISH
Robert Standish is a Los Angeles based painter whose work has been exhibited internationally in galleries and museums. With an interest in metaphysics, Standish uses basic elements like line, color and texture, to represent the dynamism, constancy and transcendent flow of the universe. Standish's lusciously colored, abstract paintings appear to be in the tradition of both American Abstract Expressionism and German Expressionist painting.
TIM CHRISTIE
Tim Christie is a New Zealand based designer and artist whose work has been represented in galleries in New Zealand and overseas. Christie's exquisite pieces in this exhibition are comprised of a uniquely symmetrical blend of geometric abstractions and soft faces.
"I was curious to explore the relationship between a very controlled technical aesthetic and facial features, with the inherent symmetry of the latter providing a shared language between these two worlds." – Tim Christie
YVES BRIGHT
Yves Bright was born in Beirut, Lebanon. Yves and his family moved to the United States when he was 4 years old. He then became a professional surfer and traveled the world for well known global sponsors like Quiksilver, Channel Islands, and O'Neill. Competing in the 2013 ISA World Masters Surfing Championship , Yves Bright Yves led his team to a Bronze Medal.
"Photography gives me the opportunity to recreate moments in life, one frame at a time, and tell a story through the only use of imagery. One image can tell a story forever." – Yves Bright