The Founder Haleh Mashian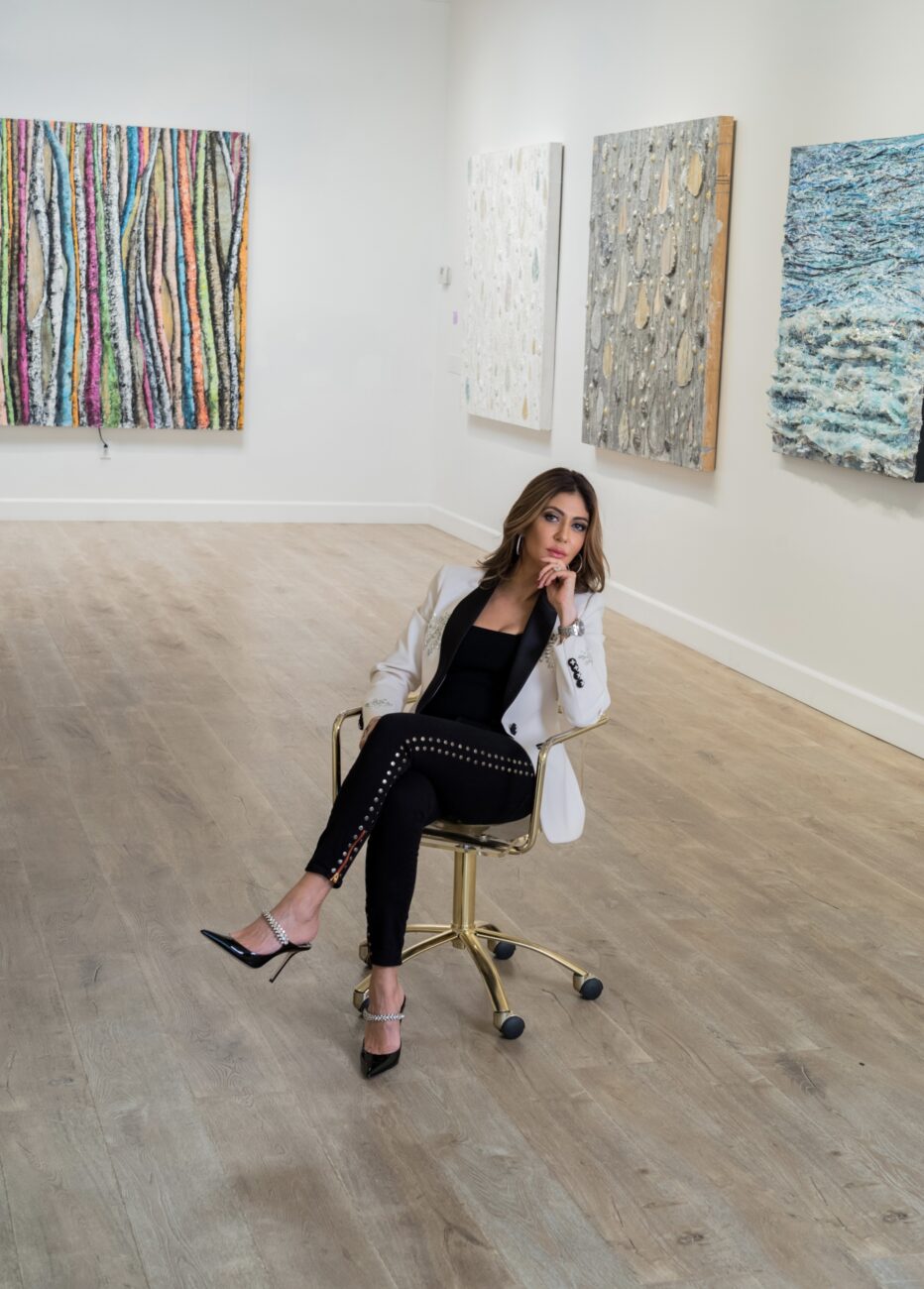 WHY MASH?
Haleh Mashian founded Mash Gallery in 2018 to create a hub for creativity and community to thrive under one roof.
The gallery represents Mashian's commitment to building and supporting community through the power of the arts. It serves as a platform for artists to showcase their work and connect with the larger community, extending Mashian's creative vision beyond the walls of her personal studio. For her, Mash Gallery is not just a physical space, but a manifestation of her belief in the transformative power of art to bring people together and inspire positive change.
With an eye for detail and a passion for art, Mashian curates each exhibition at Mash Gallery with great care and attention. Every show is thoughtfully chosen to reflect a specific theme, creating a cohesive narrative that invites visitors to engage with the artwork on a deeper level.
Mashian is committed to providing equal opportunities for both emerging and established artists. She personally handpicks every piece featured in the gallery, using her expertise as a painter to select work that resonates with her own artistic vision. Since the gallery's inception, Mashian has showcased the work of over 400 artists and continues to plan robust curated exhibitions that bring local, national, and international audiences together.
MASHIAN AS AN ARTIST
For over 30 years, Haleh Mashian's art has colorfully illustrated her unique, insightful view of the world, both real and imagined. As a creative expressionist, Mashian's art embodies her enchantment with color, composition, and the interplay of positive and negative space. Working in mixed media and using a variety of techniques from collage to impasto. Mashian creates a range of dynamic pieces in various sizes to accommodate the residential, retail, and hospitality markets.
Mashian works across various series, each of which has a personal story behind it. Whether inspired by a spiritual experience, introspection, or simply the beauty of the world around her, Mashian is driven by her passion for color, texture, and scale.
"Creativity is my natural religion," Mashian shares, as she describes the act of creating derives from a divine consciousness, where higher intelligence takes over and the connection with the mind and intuition unite. It is a space where one can channel the divine energy into tangible forms of expression. In this flowing state one becomes fully present and open to receive what is rightfully theirs.
Recently expanding into sculptural and three-dimensional art, she is incorporating LED light, plaster, and other materials that bring her pieces to life. Her love of interior design has also led to an exploration of the digital realm. Fashion, and furniture manifest her artful vision of living and her belief that art – physical and digital – sculpture, fashion, and interior design can all be seamlessly combined to create a sublime and expressive lifestyle.
HER STORY
Haleh Mashian roots run deep in both Jewish and Persian culture, having been born and raised in Tehran, Iran. Despite her family being the subject of persecution due to their religious minority status, Mashian remained resilient and in 1987, she fled Iran with her brother to seek religious refuge in the United States.
Amidst the challenges of immigration and religious persecution, Mashian's passion for a free and expressive life persevered. She feels very fortunate to be a United States citizen and to be able to pursue her passion and her authentic voice as a woman.
Haleh Mashian creative energy knows no bounds. Her firm belief that creativity can be infused into every aspect of life is a testament to her unwavering passion for the arts. Drawing inspiration from the parallels between music composition and painting, Mashian composes unique pieces of music for every series of paintings she creates. This approach allows her to delve deeper into the subject matter and express its nuances through both visual imagery and sound, creating a truly immersive experience. For Mashian, the ultimate goal is to "bliss out" and connect with her audience on a deeper level, showcasing the transformative power of creativity and its inspiring power.
"These paintings are sly and alluring in their refusal to be simple or straightforward. But in thewake of modern abstract art, this circumstance is itself readily understood. 
Haleh Mashian's paintings may be complex in the way they use subject matter to divert attention away from subject matter; but they are quite direct in their address to the history of art and the self-awareness of the contemporary audience. They reaffirm the Impressionists' and abstractionists' claim — demonstration, really — that what you see is what you see, it just happens not to be what you're looking at."
– Peter Frank, Art Critic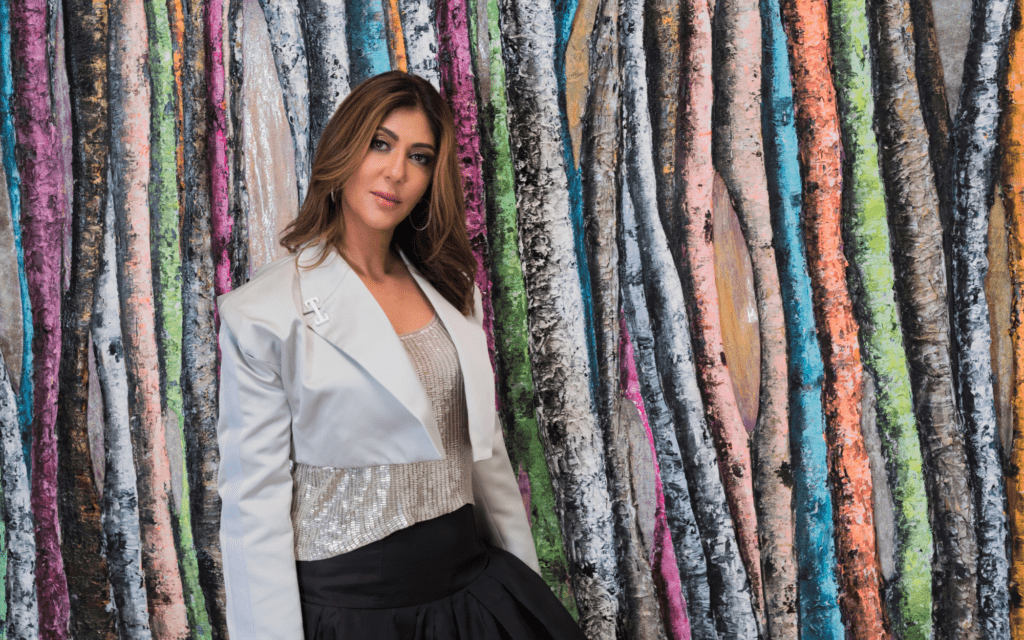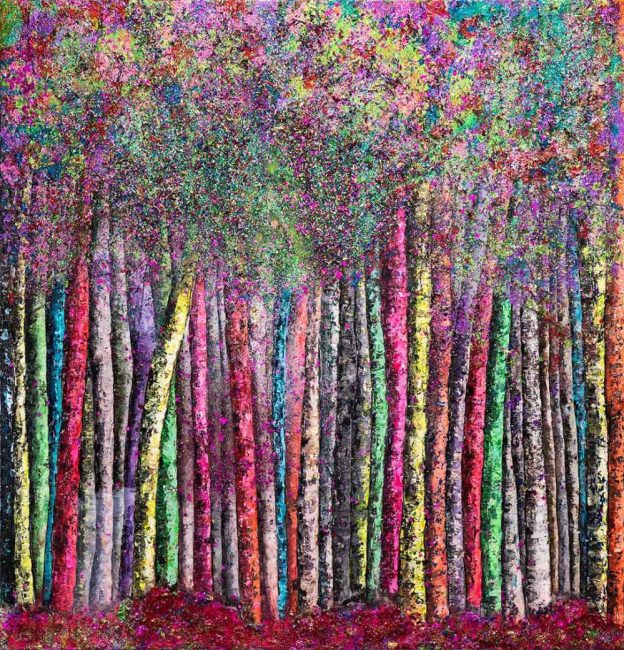 The Tree Series presents an intricate study of positive and negative space and the mystery of multitudes in minimalism.
These canvases, often large-scale, have the effect of walking into a multicolored forest.
Art critic, Peter Frank, speaks of this series with awe:
"Haleh Mashian does not paint trees. She does not paint forests. She paints the condition that persists between trees and forests and those of us who enter those forests and approach those trees as manifestations of energy and mood. These are paintings of presences and at the same time of emotional and mental weather. These are not evocations of places so much as evocations of feelings."
– Peter Frank, Art Critic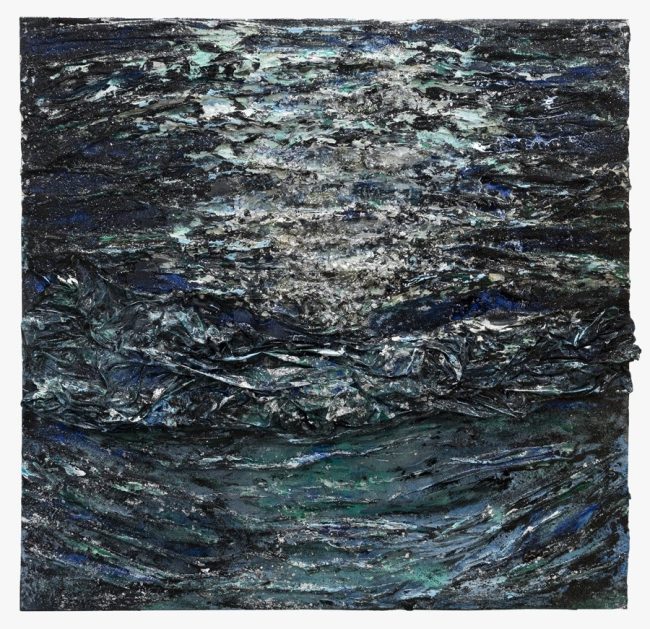 The Water Series explores the themes of water — its torrents and stillness, its ebbs and flows, its shimmer and depth, its roughness and ripples. Through the use of a myriad of materials and textures, the paintings portray water as a cleansing, an immersive substance that both washes away our detritus and calms our senses with its rejuvenating and constant momentum. In this way, water is both substance and solution—carries and cleanses the body and soul.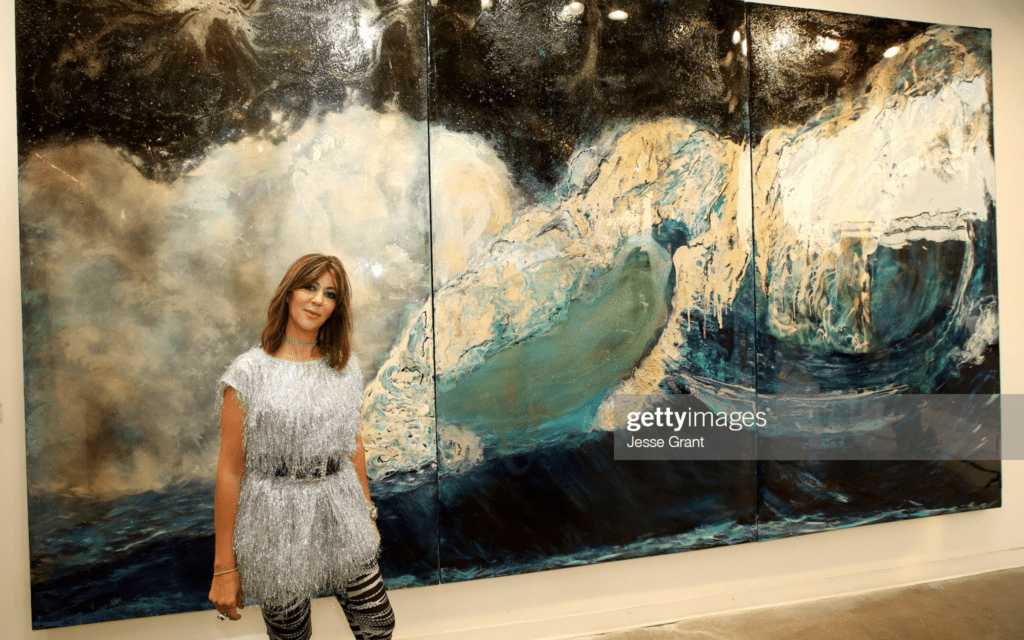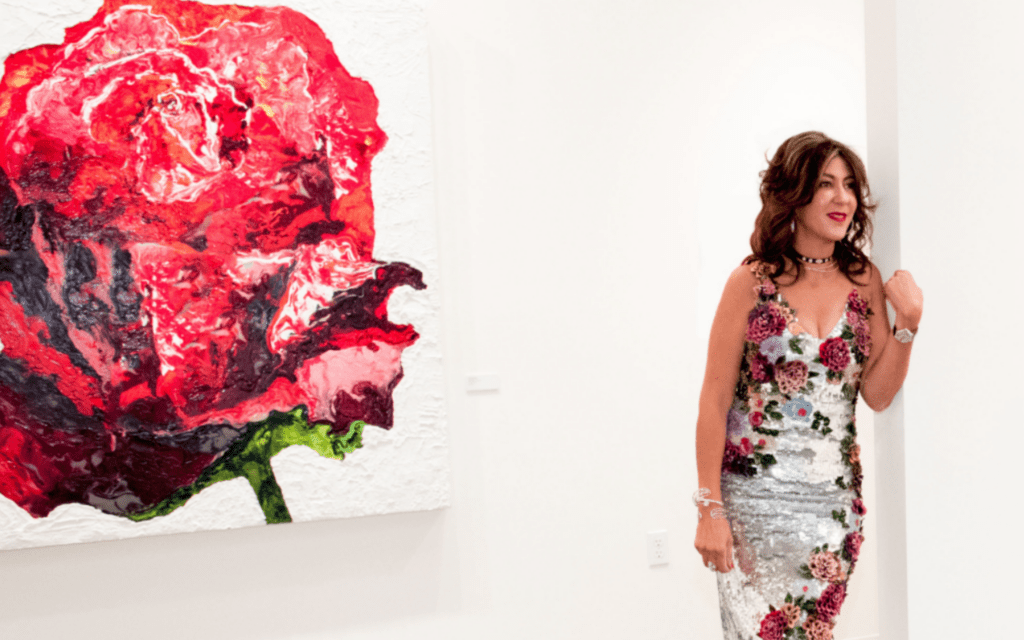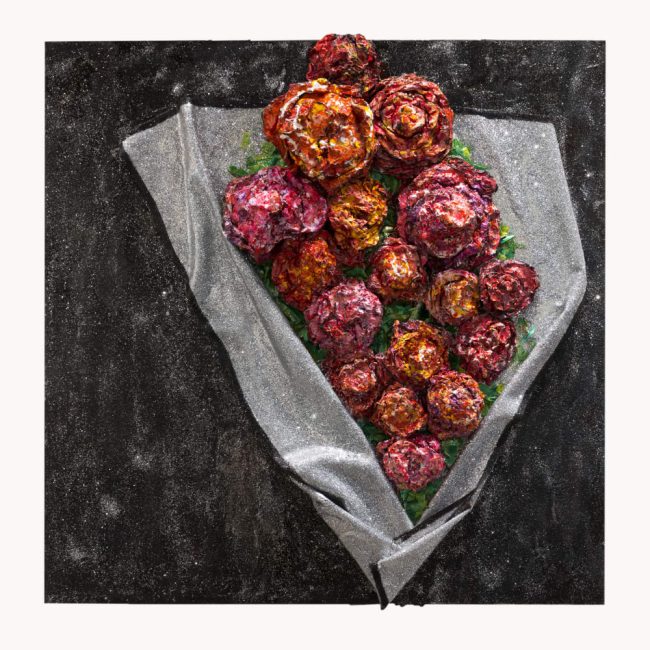 In the Rose Series, Mashian captures the quintessential and singular beauty of the rose. Evocative and startling, rather than delicate, the large-scale, mixed media paintings on wood panel highlight the intricacies of single blooms with several works employing the vivid hues of the rose as a theme.
"The rose, to me, identifies beauty, and it's not a permanent beauty, and there's a surrender to that, that today the beauty is here and then it may not be there or so be it, you surrender to that. I think that is a very important part of a woman, to be able to flow and to be with what is."
– Haleh Mashian, The artist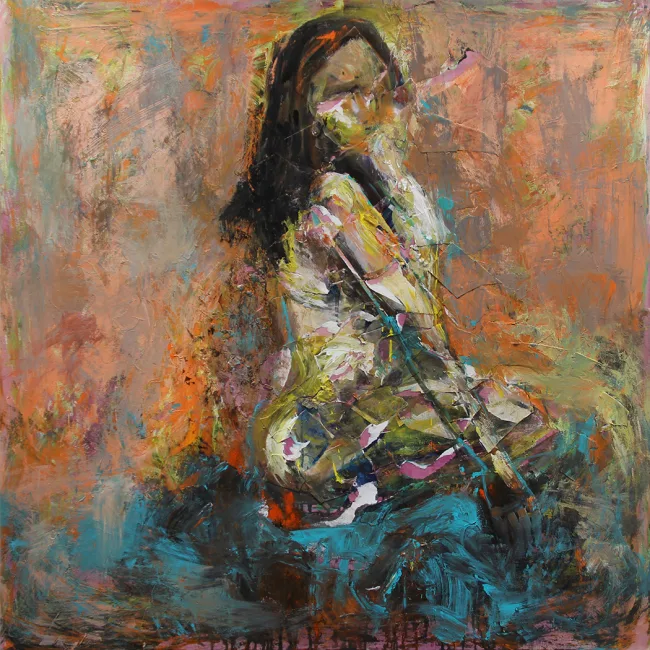 Mashian's Abstract Figurative Series is her most personal and is an homage to the dichotomies of what it means to be feminine: soft and bold, fluid and stalwart, vulnerable and invincible. Mashian's approach to the feminine form evolves from a symbolist collage to a modern interpretation of the feminine figure. Mashian's work with live models ignited the Femme series, addressing the universal themes of feminine fortitude and fierceness, and at the same time is the latest configuration celebrating the female form—a subject of myriad artworks since the age of antiquity.
"The figurative images of women are lush and highly textured – like all of the work here, they are mixed media paintings, large and yet intimate, layered with resin, glitter, gels, fabric, paper, jewels, and beads; or as Mashian describes her work, "Whatever moves me. I wanted all of them to be in a jewel tone because…of the richness of being a woman. We have a lot going for us."
– Haleh Mashian: Meditative Magic, Diversions LA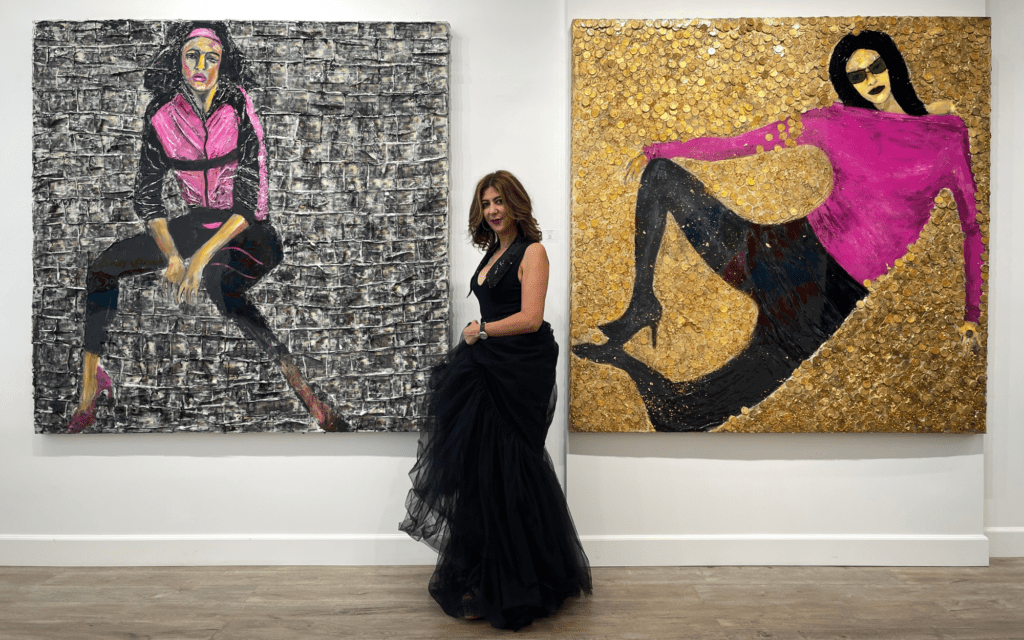 To browse artwork for purchase in our Online Gallery, please visit the link below.