DIVERSIONS LA, JANUARY 19, 2019
At first glance, the body of work in Haleh Mashian's latest series of large scale paintings on wood panel reminds the viewer of the glory of rain. It reminds the viewer of the wonder of water falling from the arc of the sky and nurturing the earth below. Of rivers and fields nourished, of clouds softening the landscape, of vision turned inward.
In Figurine, Mashian has created images of the female figure, and of a woman's tears – not just one woman, but a collective feminine humanity, she says. The figurative images of women are lush and highly textured – like all of the work here, they are mixed media paintings, large and yet intimate, layered with resin, glitter, gels, fabric, paper, jewels, and beads; or as Mashian describes her work, "Whatever moves me. I wanted all of them to be in a jewel tone, because …of the richness of being a woman. We have a lot going for us," she laughs.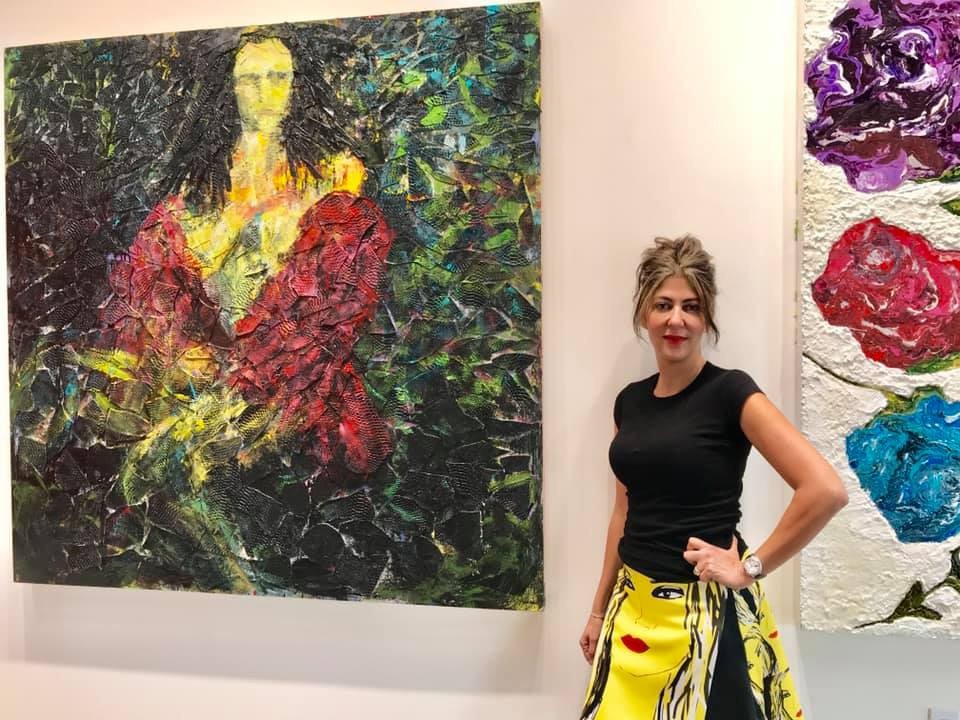 Mashian certainly does. A life-long artist, she opened Mash Gallery in the DTLA arts district last August, and has from the start drawn large crowds to diverse shows with skilled curators. "I like to create a place of creativity. I don't want to be put in a box, I want the space to be fresh and heartfelt. My energy affects it a lot." It's her first foray into running a gallery. She has an eclectic mix of shows scheduled for the remainder of the year and ahead into her second. This year, exhibitions covered nature, fashion, and the color red in its inaugural event, Incarnadine.
"In November of every year was are going to have fashion and art. I've launched a fashion line," she attests. Her Maison H fashion line made the cover of American Apparel News, her vivid and prolific designs gracing blankets, bathing suits, shawls, bomber jackets, T-shirts, dresses, bags, and leggings among other items.
Of the impetus to take on so many new projects, she says "I just feel ready. I feel a lot freer than in my 20s. I feel I keep getting younger, so I might as well do it, it's an energy exchange."
The energy emanating from her work in Figurine is highly emotional, and distinctly, as she puts it, "feminine." She attests that "The pieces came to me through meditation. I've been studying meditation for 25-years. Love is a big part of the journey, what does it mean to be feminine, what is my journey as a woman?" Mashian adds "It is like being an archer. You have to aim high, you cannot go after the feminine until you go after divinity, and connect to the silence there. Then you find you'll fall into the feminine."
In a gallery note on the show, Mashian writes "This series is a dance in color and a flowering expression of receiving sacred silence, love, and ecstasy."
The exhibition features images of women, each created with unique textures: layers of paper or fabric, for example, mix with the thick applications of paint. Lines, softness, and even dark backgrounds converge to create that kind of blurry, rain-soaked vibe; its furthered by the thoughtful curation of the show by Helene Brown, who has alternated the figures of women with Mashian's stunning, light-filled tear drop pieces and dewy flowers.
Like translucent raindrops on wet roses – both flowers and tears glow.
The tearful images radiate complex emotions, some opalescent, some sparkling, one, "Jeweled LED Backlit Tears," illuminated in such a way as to resemble teardrops morphed into fire opals; Mashian says the intent was to represent the clarity and illumination one feels after crying.
"Jeweled White Tears" evoke peace; "Jeweled Black Tears" tears of pain. Her "Jeweled Red Tears," two paired panels, represent tears of passion. "Jeweled Gold Tears" appear to represent the pure worth of tears.
"Unless you have really cried you don't know who you are," Mashian says. "There is something so majestic about getting in touch with your feelings. The images of tears were all formed from crying meditation. Sometimes you don't know if you are crying your own tears, or the collective memory of women that we carry inside us."
She feels that women are blessed to be open, attuned to nature, and connected to the cycle of life and death. "We are in constant flux, we are magical, one minute we are cold as ice, the next hot as fire. That's what makes us interesting," she laughs.
Her figurative works, which she created working with live models, include "Mona Hissa," whose fabric elements remind one of the scales on a snake or the feathers of a very hardy bird. The woman's arms appear to sheathed in red wings.
"Femme 2," soft and impressionistic, very much resembles an image seen through rain or tear-blurred glass.
So, too does "Femme 8" a bathing-suit or lingerie-clad figure who could be standing behind a curtain of image-fracturing rain. It is what is hidden, or partially concealed in these works, as much as what is revealed, that make them powerful. "There is the pensive innocent, the warrior, the complicated Medusa," she says. "It all comes out at different times in us. There is no need to apologize."
Mashian says that all her works represent a narrative of her personal journey to her femininity. "I want people to know that this all comes from an inner knowing; it's experiential, it needed to come out and be expressed, and it carries a certain energy of something that moved me."
The exhibition also includes a variety of intense floral images in red, hot pink, bright yellow. "The roses came from a meditation of looking into someone's eyes and giving that person a rose. They come from the idea of defining beauty. How do you do that? It's from the beyond, and always changes, there is a surrender in it."
The swirling, liquid beauty of her flowers – whether a single rose or a group of scattered blooms – look upon closer inspection as if one were seeing the dynamic nature of the universe contained within the petals of a single flower.
While Mashian likes working on a large scale, and with series of images, such as her deeply textured large-scale series of trees, above; she also creates smaller pieces, as with some of the stained-glass-like images she uses for her fashion design, which she creates digitally on her iPhone, below.
She calls art a "mysterious process" for her. "They say an artist should be known for only one thing, but so much is happening inside me all the time. I tap into that."
Figurine was a plunge into the unknown for Mashian. "The work came from a more courageous place inside me. I love not knowing what's going to come out, but trusting my gut, trusting what you're going to put into the work. It just brings you more courage in life." According to Mashian, "At some point the painting tells you what feeling it conveys."
For the viewer, what the work in this show – whether roses, women, or a dazzling world of embryonic tears – tells you overall, is to experience the radiance and magic of the work, and fall into their spell and their depth.
But for now, it's time to revel in Mashian's own works in her solo show Figurine.