VOYAGE LA, AUGUST 26, 2019
Today we'd like to introduce you to Haleh Mashian.
Haleh, please share your story with us. How did you get to where you are today?
I escaped Iran to come to the United States in 1987, seven years after the Iranian Revolution. As a teenager, I lived under the oppressive Iranian regime, during which extremist revolutionary guards persecuted my family for being Jewish. I experienced constant harassment for being a woman, which included several arrests.
When I moved to the United States, freedom of expression and living life as I saw fit was one of the most important pursuits for me. Upon graduating the University of Southern California with a degree in finance, I worked as a financial consultant for two years. I soon realized that creative and imaginative experiences brought me the most satisfaction.
To explore my creative interests, I took classes at UCLA Extension and Brentwood Art Center, and privately learned essential painting techniques and methods from artistic masters. As I became more in touch with my creative side, I simultaneously discovered deeper spiritual meaning in my personal life. Specifically, after meeting my spiritual master teacher, Dr. Michael Gottlieb, I had a renewed understanding of the freedom that comes from self-expression.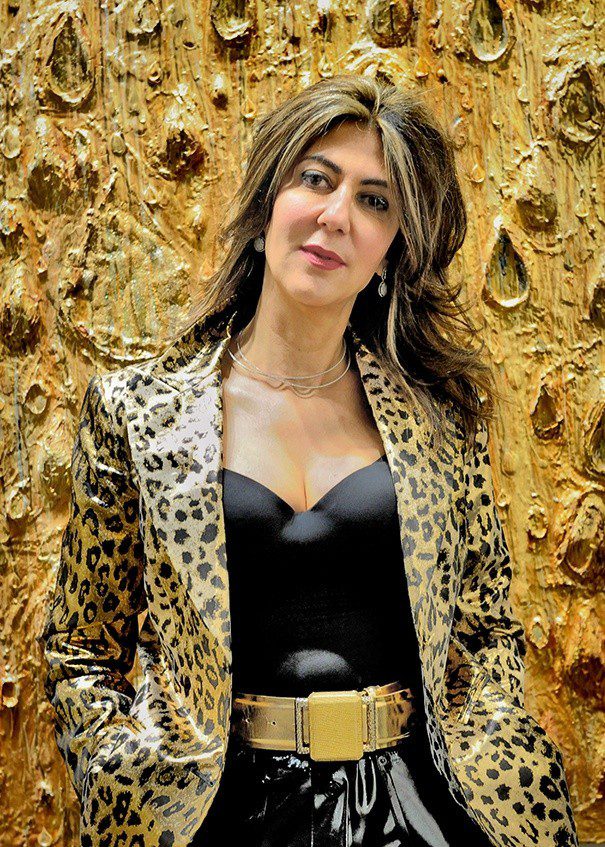 I have been painting for more than 20 years, developing and mastering a technique which parallels my own life experiences and personal growth. In an effort to share the impact art and creative expression has had on my own life with the surrounding Los Angeles community, I opened Mash Gallery in August 2018. My dream was to create a hub for creativity, where the community could come together to experience expression, art, and connection.
In the past year, Mash Gallery hosted eight group and solo exhibitions, in addition to music and dance performances, art panel discussions, and fashion events. Personally, I have participated in a few group shows, have had two solo exhibitions, and even curated the most recent light and color exhibition, LUMEN, in celebration of our one year anniversary. Having the opportunity to bring people together and celebrating the joy of living artfully has brought me—and others—so much happiness.
In addition to my work with Mash Gallery, I launched my fashion line, Maison H, in November 2018. Maison H participated in various fashion shows, including LA Fashion Week, and have been featured on the cover of California Apparel News, and is available for purchase at Mash Gallery and online.
Today, I feel very grateful and blessed to live in the United States, where the potential is limitless. I am very appreciative of all the support received from my husband, children, and friends and family in my new venture into the art world and look forward to what comes next.
Overall, has it been relatively smooth? If not, what were some of the struggles along the way?
I think one of the most important challenges was letting go of the concept of who I think I am based on my personal history. To realize that I am as limitless as I choose to be on an ongoing basis is the work of a lifetime.
Also, balancing motherhood, being a wife, having a career and taking care of yourself takes a lot of juggling and planning. And to do it with joy, calmness, and gratitude takes awareness and consciousness.
My advice to young women is to know who you are and feel comfortable in your own skin. There is no need to prove yourself – you are beautiful and powerful as you are. Always choose to dive into the unknown – that is where the growth is.
Please tell us more about your artwork, what you are currently focused on and most proud of.
I am a contemporary painter, and I work in a variety of mediums. I use thick impasto technique and a variety of colors to create depth and texture and to convey different emotions and moods.
My work is often a reflection – an intimate journey that walks inside the mirror of my life. I have different series, such as figurative, abstract, landscape and digital. I am best known for my figurative and landscape paintings. I have been painting from live models for twenty years and I still find the human figure fascinating.
I am proud of my ability to convey my energy and emotions in the paintings in a way that resonates with my viewers. Regardless of the subject matter, my goal is to make people respond to the energy behind the work.
I also like to compose music for each painting series. It is an exploration of visual and audio to enhance my understanding of my subject matter and a deeper personal gratification.
As for my digital work, I like to mix art and technology. Most of my digital work is done on the iPhone with my finger, which then gets translated into prints for my fashion line.
Looking back on your childhood, what experiences do you feel played an important role in shaping the person you grew up to be?
Going through the revolution, war, persecution, and like many other people, personal challenges, I realized you are the cause of your own life. If you succumb to your surrounding circumstances, you cannot experience your inherent power, joy, and ecstasy. In the end you have the power to create your life, constantly.