ANGELA GROOM, ARTILLERY MAGAZINE, NOVEMBER 12, 2020
"Figuratively Speaking" is a 25-year retrospective on the female figure as studied by the artist, Haleh Mashian. Haleh is an Iranian-born artist, who opened Mash Gallery in 2018. Since the works are presented undated, it is unclear exactly what Mashian's "early work" versus her "later work" is, with the exception being her pandemic series. However, it was more satisfying to see all the work together without dates, knowing it spans twenty-five years, because the work is no longer tied to a chronological or linear timeline but rather an amalgamation of her personal and artistic evolution.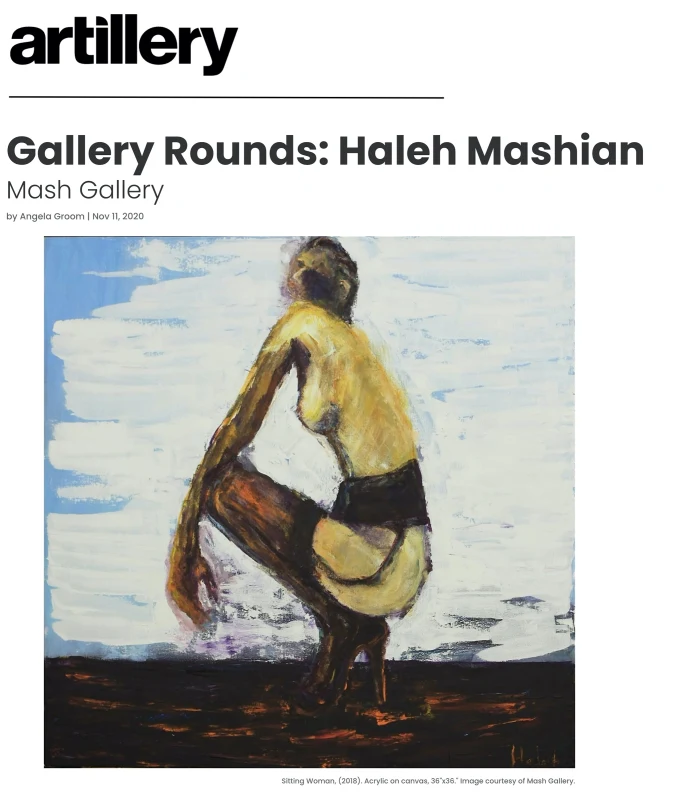 Mashian's Magenta series is decidedly modern and sticks out boldly. Throughout much of her work, she eschews harsh lines for scrapes, drips, and smears, as seen in Magenta 10, 11, 12.  Magenta 2, 3, 6, look especially chaotic, employing what looks to be the sides of her palette knife to leave hard aberrant lines. This stray from strict realism in her work has to do with capturing the emotion, energy, and vibration of the live models. Her abstract use of the universal language of color is to convey the non-physical in tandem with the physical. 
This approach is true for a lot of her work, however, there are plenty of exceptions where she shifts to realism within figuration or portraiture. One of these exceptions is her Awaken series. This sort of triptych piece is massive in person,  taking up a huge amount of space on the outside wall in front of the gallery. These three pieces are meant to portray awakening from a fog and becoming more aware, according to the artist. Without her having to say it, the work speaks for itself. The smoke effect of the white paint, the front of the face leaving the shadowland, the distortion of color from her experimental use of pouring methods, and the eyes-wide-open all tell the story of what it feels like to escape a mental fog.