LA COMMONS, MAY 14, 2020
Meet Jose Lozano
Lead Artist Fremont Healthy Kids Zone Medallion Fence Art Project
Jose Lozano received his Master of Fine Arts from California State University, Fullerton. His drawings and paintings have been exhibited widely at venues that include the Museum of Contemporary Art San Diego, UCLA Armand Hammer Museum, Orange County Museum of Contemporary Art, Patricia Correia Gallery, Self Help Graphics, and Avenue 50 Studio.He has received many awards including a J. Paul Getty Mid-Career Grant in Painting and a California Arts Council Grant for Drawing and Painting.
What is your background as an artist?
My background, I'm an old person already so I've been at this for a long time but it always feels new you know you always feel like a young person when you do art. You don't feel shaky or tired because it's always a new experience.
If you can't tell, you can't put an age to a piece of art because it's just art. So it's always fresh and new. I've been doing art since the 3rd grade. I was noticed by teachers that I liked and knew I had some artistic ability. One of them would take me to art classes on Saturdays. Mrs. Jefferies would take me to the YMCA and then drop me off at home afterwards. In high school I had a teacher named Ms. Randall who took me under her wing and gave me books. They pointed me in that direction and I learned from what was given to me. Later I went to college and took classes. I looked at art books and analyzed what I was looking at. I grew an affection for the visual you know. You notice color, you notice composition, you notice how artists express themselves. I started out at the Art Center and later I got a MFA in the late 80's from Cal State Fullerton.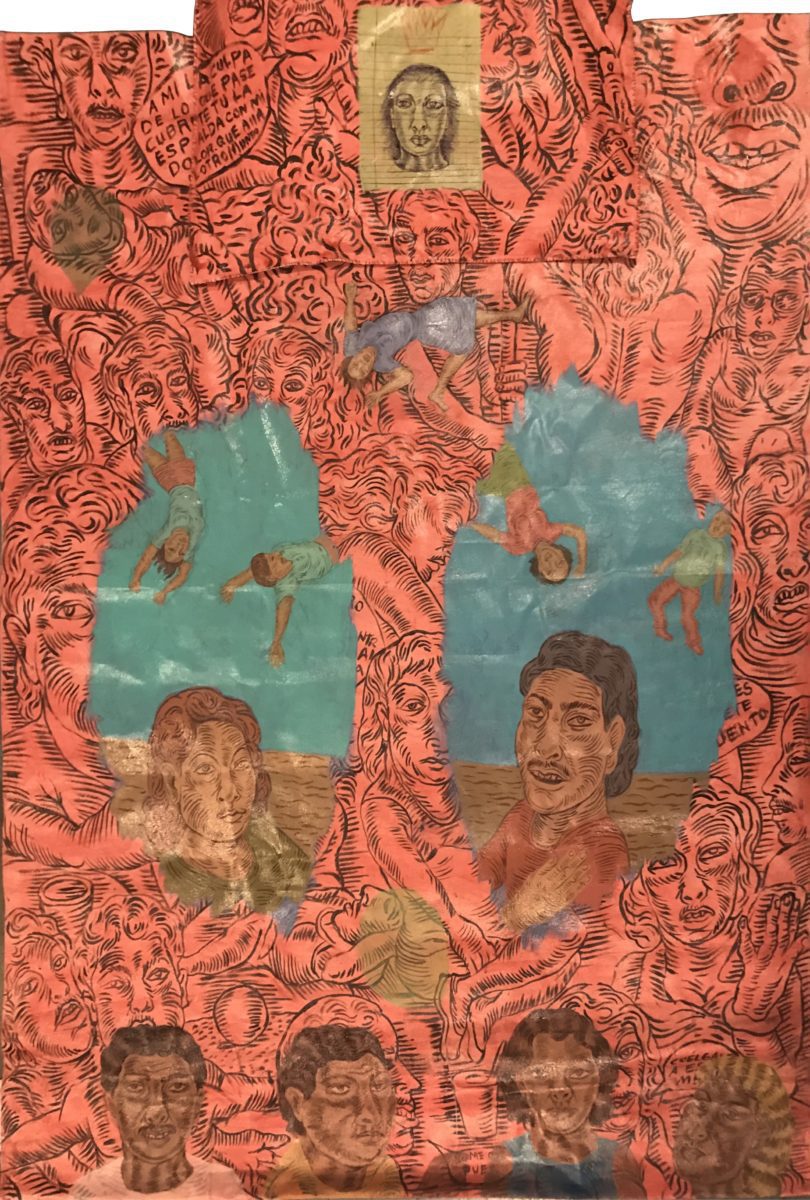 Who do you make art for?
You don't do the work for an audience. You do it for yourself. You don't have to please the audience. It's your own personal visual quest that you're working on and focusing on. You're working things out visually. You're trying to express something. Maybe not in a corny way or obvious way. The artwork has to have a hint of magic to it.
A little bit of like, hmmm. Why is that so compelling? What is he doing there? Most of the time the artist doesn't know, but you know it's there when you see a good piece of art. It inspires questioning. What is that? That comes from … not visual trickery, but a poetic hunch. It comes from a poetic hunch. I like to think that art should always be like that. It should not tell people how to feel. It should just give you… it should be like a little gift the artist is sharing with the audience.
What project are you most proud of?
The project that gives me the most joy is my Metro Station art installation at La Brea and Exposition. I did the drawings on the tiles there. People stop to look at them and they're there for the world to take in and that's very satisfying.To have my family acknowledge that my silly activity actually means something is satisfying. To see that it's for human enjoyment, human connection, and human goodness. We shouldn't always ask art to do that. That's too much to ask of art all the time. Art can be healing. When you see a piece that moves a person and feels their heart with something. What power, that art has that power. That has no price. That's priceless. The power of art is that it can ascend to that level.
What is your artistic process?
So what I do, but when I do my work, I usually say: okay, I have a problem to be solved. I have a hunch as to how to go about it. Let me get started on the figure and that figure tells me how to do it. Then, you don't want to do the same thing that you've done before. You add color and then I push a figure. It's irreverent. My work is very irreverent. It's kind of humorous. It doesn't follow the laws of art because I like to shake it up and misbehave. Some of it… some people find it a littler harsh. The people that I draw aren't "pretty". I don't do pretty. A friend once bagged on me, and she told me my women weren't pretty. She said, "Your women… you make them so rough. Make them pretty." I said, " I think they're beautiful the way they are. That's my aesthetic and my version of pretty is different than yours."
How did you develop that aesthetic?
I love to watch people. I love to go loiter at like a Jack in the Box or Union Station and just look at how a person is sitting. I look at a certain face or smile or shape of a person. Then I constantly digest that in my brain. I don't like to draw my figures like the old masters like Michelangelo. You know, all that grandeur superhero musculature. I like to draw a figure and distort it to make it do something more expressive in a composition than have it be grand. I'm down with the generic people that you see around at Target, Walmart or Food 4 Less. I'm inspired by the beauty and aesthetic that you notice when you look more closely at them.
What messages are you conveying by portraying the average person in your work?
I'm trying to make them less of a stereotype and have them be looked at as less disposable. People with no power, money or otherwise seem to become this generic mass that people can easily dismiss. I'm celebrating them and focusing on their humanity and their individualism. Everyone has a story. Everyone is complex. You can not dismiss a person just because they have shabby shoes or a shabby sweater. These people have distinct experiences and narratives which merit that we make them art.
I'm putting these people on the map because you don't usually see my characters in art. They're considered irrelevant to the culture and I say no they're not. They're in your culture. They're a part of the culture. They're thriving, they're alive and they can not be forgotten. They're in your lifetime and they're relevant to you even though you're shutting them out. You have to look a little bit deeper or you can remain shallow, distant, and ignorant. That's what I want to say.
What words of wisdom do you have for emerging artists?
My best advice to them is to open up an artbook. Look at a lot of visuals that interest you. Look at a foreign film. Study the visuals and get a load of what they're doing. You're not going to like all of it. There will be certain things you're not going to like and that's ok. And for God's sake, read a book. Read an interesting article and become an interesting person. Art is about ideas. It's about exchanging ideas and from that exchange of ideas come bigger and better ideas.