Interior design is all about creating a space that reflects your personality and style, and art is a great way to add unique touches. Decorating with art may seem like a daunting task, but with some guidance, you can turn your home into an art gallery.
When you are decorating your room, artwork can be a great source of inspiration for the room's color palette. Whether you decide to treat the art as the starting point or a finishing touch, matching its colors and shapes to your interior can help create a unified and stylish look. To do this, identify the boldest colors and shapes in your artwork, and then find ways to replicate them in your furniture, furnishings and other decorative items. For instance, if there are circular shapes in the artwork, consider adding a spherical vase or lamp that reflects these shapes. This will add depth and texture to your space while highlighting the artwork. By tying your interior design and artwork together, you can create a unique, visually stunning interior that is sure to impress your guests.
Think About Scale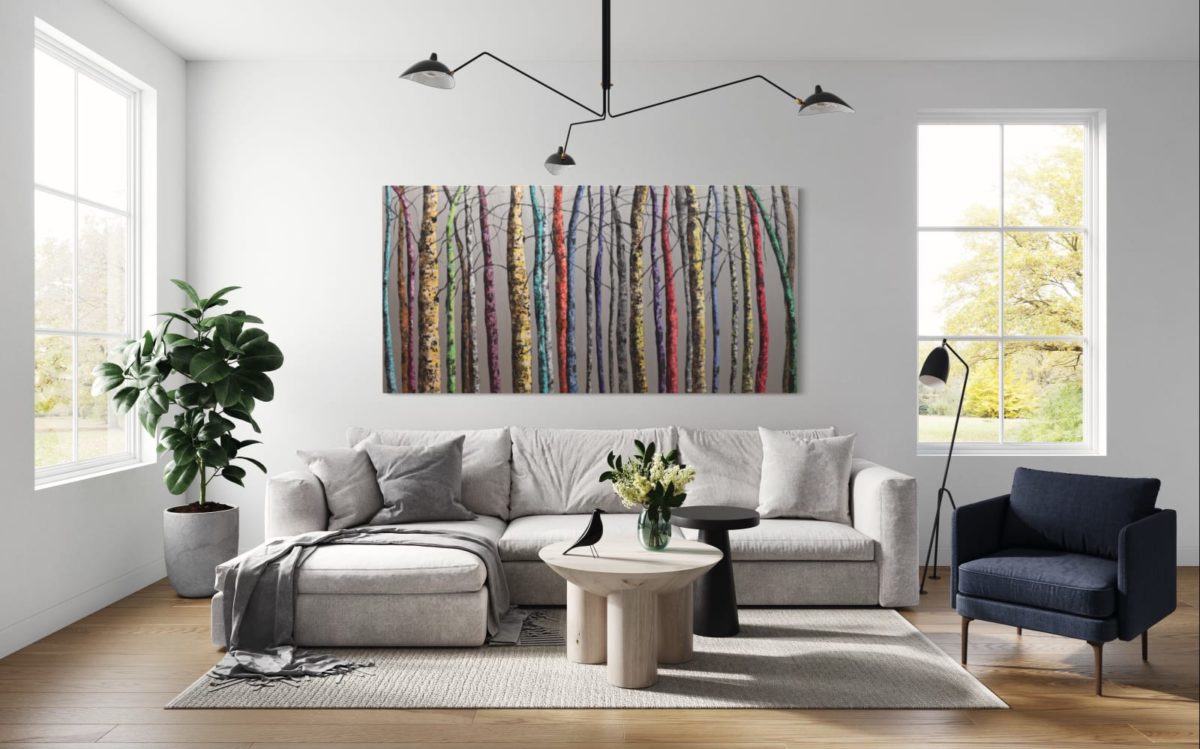 When it comes to choosing artwork to hang on the wall, scale is an important consideration. A piece that is too large can dominate a space and feel overpowering, while something that is too small can easily get lost in a room. If you want to make a statement, opt for larger pieces with an impactful presence. But if you are looking for something more subtle, then choose smaller works of art or even group several pieces together to form one eye-catching display.
Take your time when selecting pieces, and if possible, tape out the shape and size of the artwork on the wall before hanging it up. This will give you an idea of how it will look in situ and help you to achieve a harmonious balance in your room. When selecting artworks, remember to think about their colors and textures too – these should work with other elements in the room to create an overall cohesive look.
Introduce Different Mediums
When decorating with art, don't limit yourself to framed paintings and drawings. There are many different mediums available to transform an interior, such as textiles, ceramics, glass, and metalwork. These mediums add texture, richness, and visual interest to a space. For example, a large antique tapestry can be used to cover the wall of a dining room and set the tone for the overall scheme. Similarly, a tapestry can be used to add texture and richness to an entrance hall. It's also important to vary the sizes of the pieces in order to emphasize each item and create interesting shadows. Don't be afraid to think outside of the box when introducing different art mediums into your home.
Think Outside the Box
When it comes to decorating with art, it doesn't have to be limited to just hanging pictures on the wall. There are plenty of creative and unique ways to incorporate artwork into your interior design. Consider incorporating your favorite piece into a piece of furniture, such as a bookcase, or even using it as a way to conceal clutter in a room. Use your imagination and take an unconventional approach when it comes to displaying art. If you're looking for inspiration, take cues from interior designers who use art as the focal point of a room. Whether you choose to hang it on the wall or use it as part of a larger piece of furniture, art is a great way to give any room a unique touch.
Create a Focal Point in a Living Room
A living room is the ideal spot for artwork where it can be admired and enjoyed. To create a focal point, try hanging a large landscape format artwork behind a sofa. This adds height, depth, and creates an eye-catching piece for guests to admire.