LAURA LATZKO, LA DOWNTOWN NEWS, NOVEMBER 10, 2020
For her newest solo exhibit, "Figuratively Speaking," artist Haleh Mashian gained a better understanding of the female form and essence through working with live models.  
Mashian will present the retrospective show, a product of 25 years of work, at MASH Gallery in the Arts District through December. Along with her figurative artwork, Mashian has her digital art pieces on display. 
Mashian is the owner of MASH Gallery, which provides opportunities for established and up-and-coming artists to display their artwork. Events at the gallery often incorporate fashion, music and art.
Mashian says the exhibition will give viewers a more personal look into who she is as not just an artist but individual. 
"It's painting different facets of who I am as a woman and being ready to put that out, being it beautiful, being it ugly, being it not pleasant, pleasant," she said. "I think more than ever I feel the strength to want to do that. I think it was a very recent thing that I thought I am ready for this."
None of the works on display have been shown before. Some are from early in her career while others are more recent.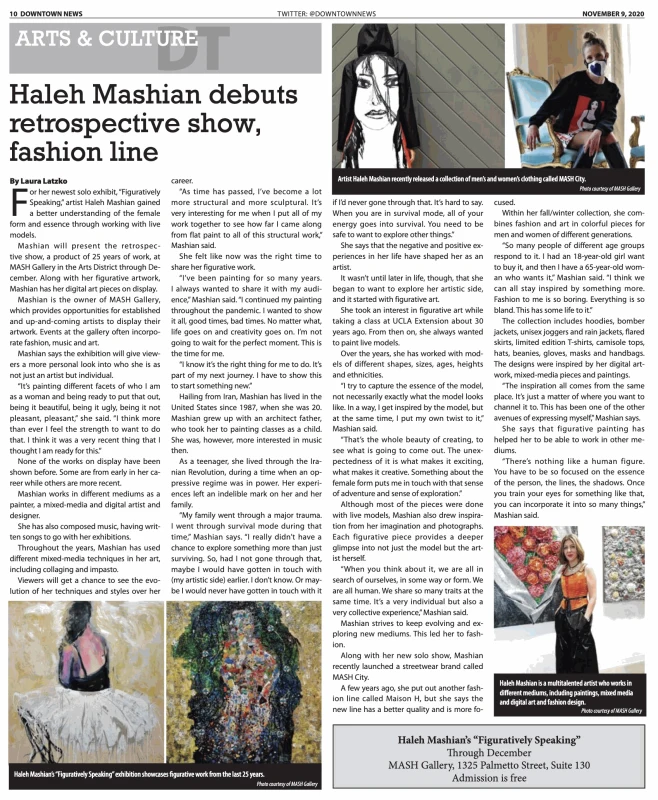 Mashian works in different mediums as a painter, a mixed-media and digital artist and designer. 
She has also composed music, having written songs to go with her exhibitions. 
Throughout the years, Mashian has used different mixed-media techniques in her art, including collaging and impasto.  
Viewers will get a chance to see the evolution of her techniques and styles over her career. 
"As time has passed, I've become a lot more structural and more sculptural. It's very interesting for me when I put all of my work together to see how far I came along from flat paint to all of this structural work," Mashian said.  
She felt like now was the right time to share her figurative work. 
"I've been painting for so many years. I always wanted to share it with my audience," Mashian said. "I continued my painting throughout the pandemic. I wanted to show it all, good times, bad times. No matter what, life goes on and creativity goes on. I'm not going to wait for the perfect moment. This is the time for me.
"I know it's the right thing for me to do. It's part of my next journey. I have to show this to start something new." 
Hailing from Iran, Mashian has lived in the United States since 1987, when she was 20. Mashian grew up with an architect father, who took her to painting classes as a child. She was, however, more interested in music then.  
As a teenager, she lived through the Iranian Revolution, during a time when an oppressive regime was in power. Her experiences left an indelible mark on her and her family.  
"My family went through a major trauma. I went through survival mode during that time," Mashian says. "I really didn't have a chance to explore something more than just surviving. So, had I not gone through that, maybe I would have gotten in touch with (my artistic side) earlier. I don't know. Or maybe I would never have gotten in touch with it if I'd never gone through that. It's hard to say. When you are in survival mode, all of your energy goes into survival. You need to be safe to want to explore other things." 
She says that the negative and positive experiences in her life have shaped her as an artist. 
It wasn't until later in life, though, that she began to want to explore her artistic side, and it started with figurative art. 
She took an interest in figurative art while taking a class at UCLA Extension about 30 years ago. From then on, she always wanted to paint live models. 
Over the years, she has worked with models of different shapes, sizes, ages, heights and ethnicities. 
"I try to capture the essence of the model, not necessarily exactly what the model looks like. In a way, I get inspired by the model, but at the same time, I put my own twist to it," Mashian said. 
"That's the whole beauty of creating, to see what is going to come out. The unexpectedness of it is what makes it exciting, what makes it creative. Something about the female form puts me in touch with that sense of adventure and sense of exploration." 
Although most of the pieces were done with live models, Mashian also drew inspiration from her imagination and photographs. Each figurative piece provides a deeper glimpse into not just the model but the artist herself. 
"When you think about it, we are all in search of ourselves, in some way or form. We are all human. We share so many traits at the same time. It's a very individual but also a very collective experience," Mashian said.