THE GREY JOURNAL EDITORIAL TEAM, GREY JOURNAL, MARCH 9, 2021
In a world of social distancing, bringing people together through art is more important than ever. Haleh Mashian, the founder and owner of MASH Gallery, and a local acrylic artist and beloved community member, Maggi Hodge, are coming together to display Maggi's art collection, OVERLOAD.
Haleh Mashian began MASH gallery in hopes that she can provide a place for artists to feel free to release their creative forces, and COVID-19 has not stopped her from doing so. Mashian understands that art is essential in one's life, especially when being disconnected from the physical world.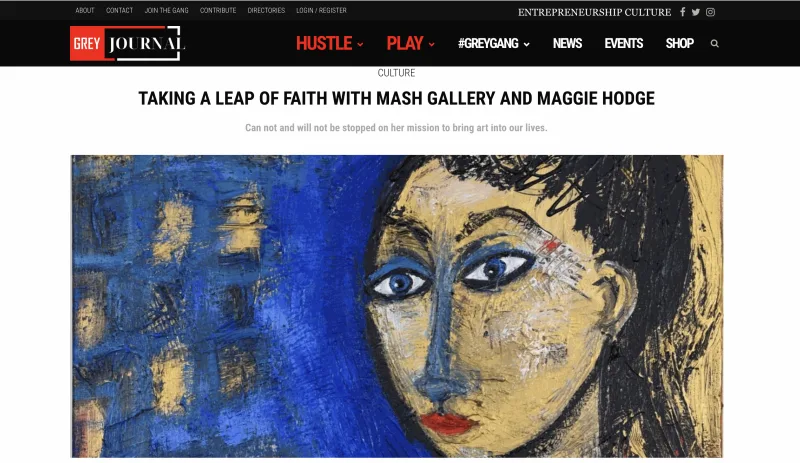 MASH Gallery is an art gallery that opened back in 2019. Since its opening to the public MASH quickly became a safe space for artists and creatives alike in the greater Los Angeles area. MASH flourishes in artistic engagement and lively entertainment. It is located in downtown Los Angeles arts districts and MASH has featured a roster of distinguished artists. Even Mashian herself has been featured in her own gallery.
From March 20 to April 24, MASH Gallery will be displaying Maggi Hodge's OVERLOAD, featuring approximately 30 pieces created by her.
Maggi Hodge has showcased her original art pieces across Southern California in multiple art fairs. Notably, Maggi's show in Santa Monica displayed over 40 paintings that sold out within three hours of the opening! Maggi's art has a way of resonating with audiences. Her art sparks conversations and has people coming back, excited as ever to view her new, upcoming art. 
Considering the responses and exhilaration surrounding Maggi Hodge's previous shows, there is no doubt that her show at MASH will be a hit.There is much buzz circulating the art community about OVERLOAD, we can expect artists everywhere to bask in Maggi's art, once again.
MASH Gallery has been able to achieve what was once unattainable to Mashian. Being a business with only a few years under their belt, you would think that it wouldn't be possible to be as successful as Mashian has proven to be.
"Don't think about it too much. Listen to your heart and take a leap of faith. Be prepared for a lot of different turns on your journey and welcome it. You may land in a much better place than you could have imagined. But, take the first step," says Mashian to young women wanting to start a business, like herself.
We can expect these successes to continue from MASH Gallery, Mashian's passion and drive is unstoppable. "As an artist, I know how important it is to experience art in real life and the power it has to connect people," says Mashian.
2021 is a year of coming back, bringing it all to the table and MASH gallery's upcoming projects will not disappoint. Mashian cannot and will not be stopped on her mission to bring art into our lives.