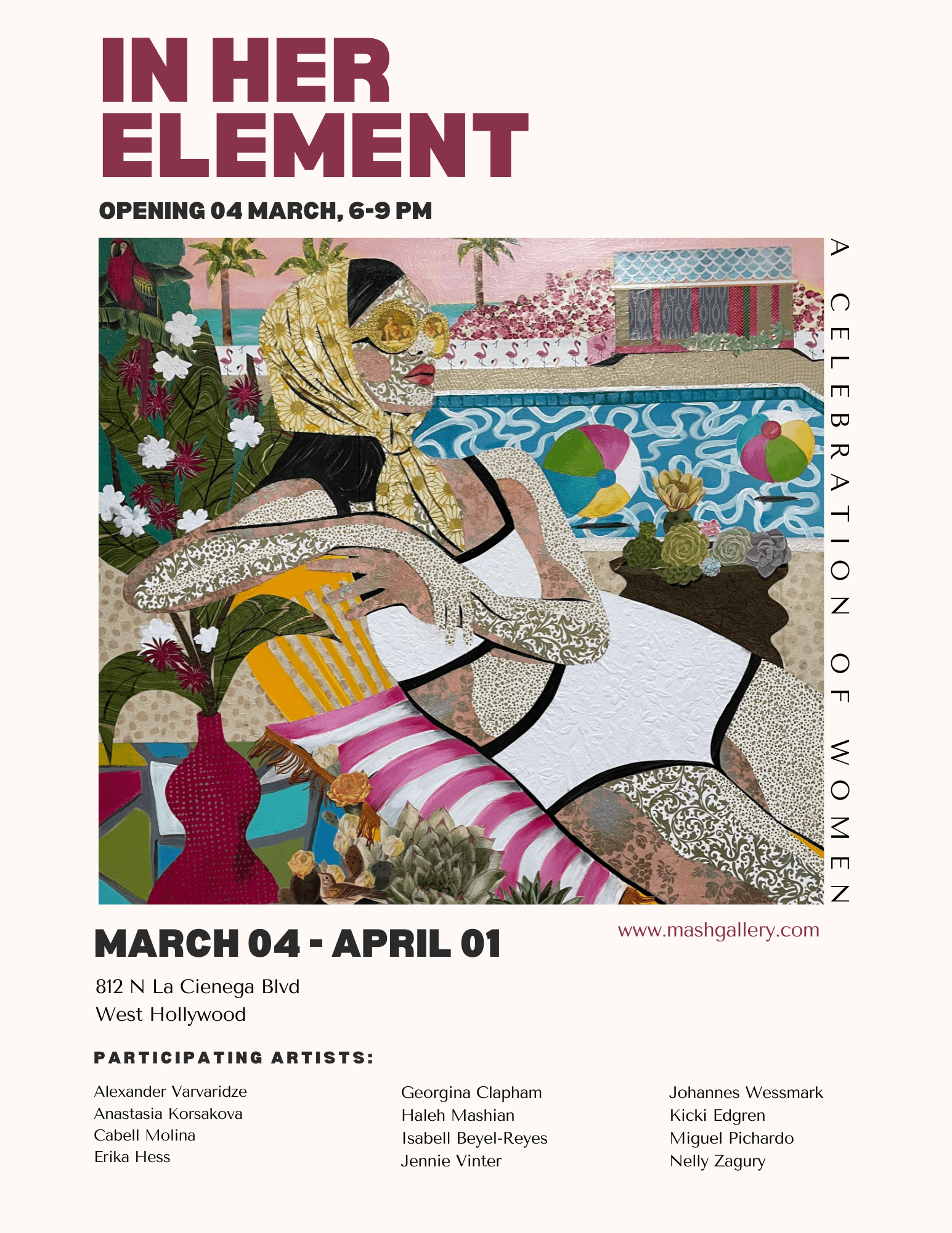 CELEBRATE WOMEN'S HISTORY MONTH WITH MASH GALLERY!
We are thrilled to invite you to our upcoming exhibition "In Her Element" – featuring work from 12 exceptional local, national, and international artists.
An exhibition curated by founder of Mash Gallery, Haleh Mashian
"IN HER ELEMENT"
MARCH 04 – APRIL 08
Mash Gallery is thrilled to present "In Her Element" – an upcoming art exhibition celebrating Women's History Month. This exhibition pays tribute to the distinctive qualities and perspectives of women, focusing on the various characteristics that demonstrate the intricacies and variations of femininity.
Femininity is an ever-evolving concept that empowers women to be true to themselves, unencumbered by societal norms and expectations. The exhibition aims to emphasize the multi-faceted aspect of a woman. The mystery of a woman is complex, not only because she is a woman, but because she is a conscious being in search of her higher truth. "In Her Element" encourages self-awareness, personal growth, and embracing unapologetic passion without objectification.
A woman's potential and self-expression are vital for the health of a progressive, empathetic, and nurturing society, unshackled by the survival of the so-called "strongest."
Art has been a safe haven for women to challenge societal stereotypes about them and redefine what it means to be a strong woman. "In Her Element" exhibition aims to inspire and empower women to embrace their passions, their unique identity, their vulnerability and resilience.
Participating Artists:
Alexander Varvaridze
Anastasia Korsakova
Cabell Molina
Erika Hess
Georgina Clapham
Haleh Mashian
Isabel Reyes
Jenny Vinter
Johannes Wessmark
Kicki Edgren
Miguel Pichardo
Nelly Zagury
Be sure to check out the 'In Her Element' exhibit at Mash Gallery!
812 N La Cienega Blvd Los Angeles, CA 90069
General + Press Inquiries: info@mashgallery.com or +1 (323) 272-3235
To learn more about Mash Gallery, please visit: www.mashgallery.com @MashGallery
_________________________________________________________________________________________