ARTDAILY.COM, November 2, 2021
Contemporary abstract artist and founder of MASH Gallery Haleh Mashian hosted an exhibit for her newest series, SACRED WATERS, at MASH Gallery in the Arts District, in downtown Los Angeles. This was a small event where guests were asked to help donate all charitable contributions to St. Jude.

The purpose of SACRED WATERS at MASH Gallery was to raise money for St Jude Children's Hospital. It was a way to get local celebrities, including pop artists, actors, and actresses in the LA area, involved and able to tap into their energies when it comes to water.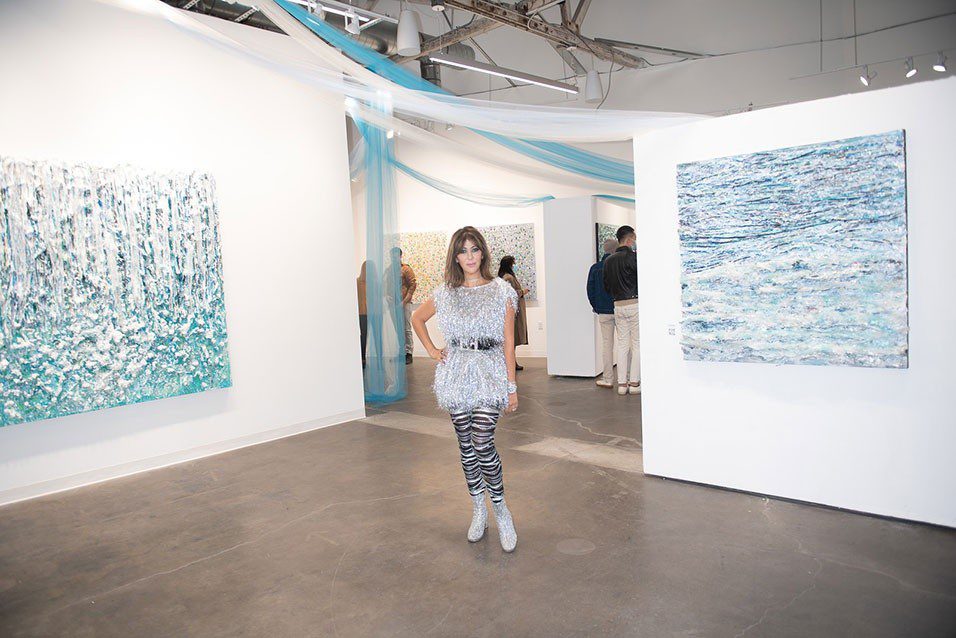 Haleh Mashian invited a number of public figures from diverse backgrounds of artistic expression to foster creative discussions among like-minded individuals. Among them were writer, actress, model, and motivational speaker Monti Washington, pop artist Vanessa Bejine, high fashion model Verina Marcel, and actress Marietta Melrose. Joining them on the red carpet were musical connoisseurs Kevin Posey and Rudolph Nobles, a producer and singer duo that dazzled the red carpet in Posey's casual black suit and jean combo and Nobles' sleek navy ensemble. The two posed alongside Haleh Mashian, whose metallic silver 'feather effect tunic and zebra print leather pants paralleled the creative expression and artistic qualities of the evening's exhibition.

Other guests, like actor Danny Plom, opted for casual chic, donning a black hoodie and matching slacks that spoke to the effortless ensembles of his west coast roots. Taking a bolder, fashion-forward approach, model Haruko Nishida took the red carpet in a pastel dotted sheer top and leather shorts – her features fierce and striking, crimson lips contrasting the black pieces she wore. On a softer note, actress Allie Davis posed in a delicate white mini with puffed sleeves and a sweetheart neckline, standing out against the cool chromatic colors of the art pieces she stood against.

The evening's exhibition was flawless. Mashian facilitated an atmosphere of individuality, excitement, and creativity among a backdrop of enthusiastic murmurs and reactions to the Sacred Water art pieces that embellished the walls of MASH Gallery. Better was the noble pursuit behind the exhibition – fundraising for St. Jude Children's Research Hospital, to which 20% of the event's proceeds would be donated.