THE LA TRIBUNE EDITORIAL TEAM, THE LA TRIBUNE, FEBRUARY 12, 2021
Even a global pandemic cannot stop Haleh Mashian.
Mashian is the founder and owner of MASH Gallery, an art gallery opened back in 2019 that has quickly become a hub for talent and creativity in the greater Los Angeles area. Located in downtown Los Angeles' arts districts, the gallery has featured a roster of renowned artists – and has even featured Mashian herself!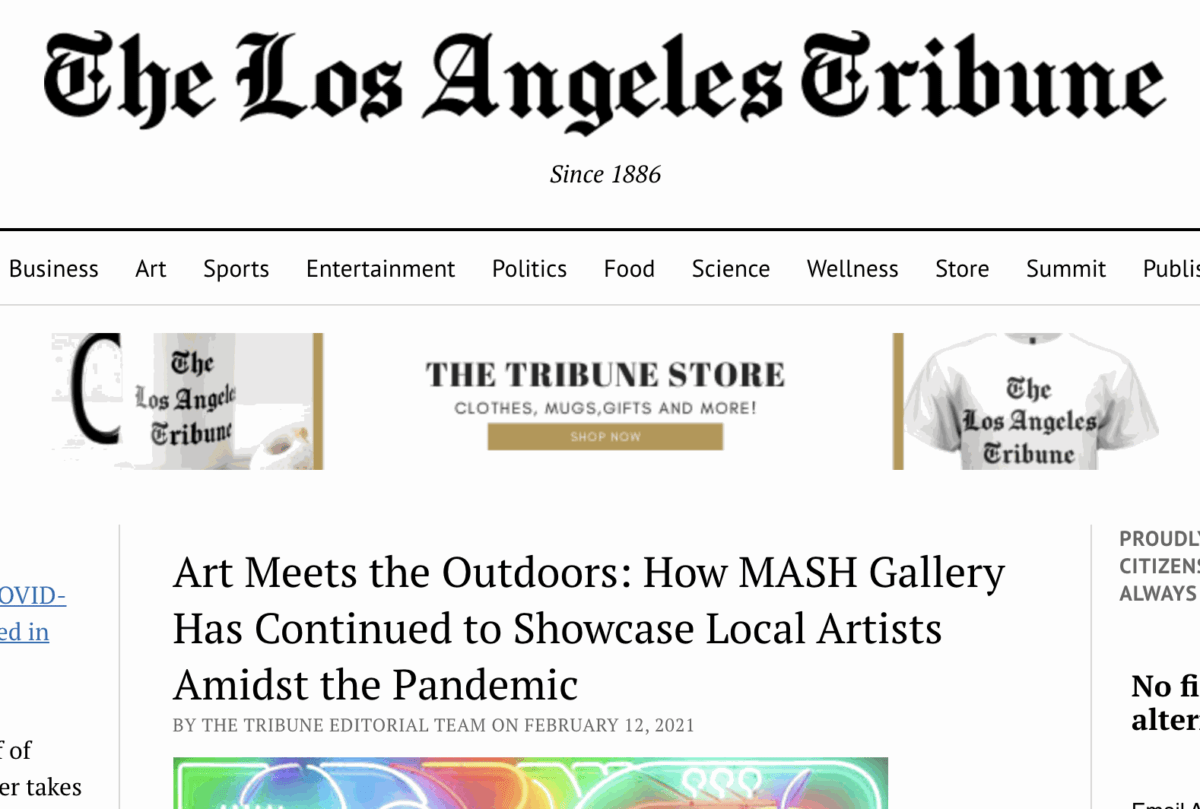 Mashian was just finding her groove right as the COVID-19 pandemic hit the U.S, but she quickly adapted to the challenge (as she always does) with a creative and innovative solution. In the past year alone, MASH Gallery has featured 26 local artists in outdoor shows. Considering all of the COVID-19 restrictions in place, this was no easy feat – but Mashian was able to find a way for people to safely support their local artists.
So what's next for MASH Gallery? Their newest exhibition "Overload" is coming to town on March 20th, and will feature almost 30 pieces created by artist Maggi Hodge. Hodge's last show sold out quickly, even despite her huge 40 piece collection. With buzz already circulating, the art community can undoubtedly expect this show to have a similar reception. "Overload" will not be the only show coming to MASH this year, be sure to keep an eye out for MASH's upcoming ventures and shows!
Though MASH Gallery is only a few years old, Mashian has brought her business to astounding heights and achieved things that seem unbelievable considering MASH's newness. However, Mashian has proven that anything is possible if you are willing to work hard. "Don't think about it too much. Listen to your heart and take a leap of faith. Be prepared for a lot of different turns on your journey and welcome it. You may land in a much better place than you could have imagined. But, take the first step," Mashian advises other women who want to dive into the world of business.
For fans desperate to see more of Mashian's own work in MASH Gallery, do not despair. Mashian has a solo exhibit in the works intended to explore the characteristics of water: "always influx and always transforming." Her newest exhibit will feature her trademark oversized pieces, and also a few sculptural elements too.
Get ready for a year of excitement; MASH gallery's exhibit with Maggie Hodge is only the first of many enthralling shows coming to MASH Gallery this year. Mashian has made it clear nothing can or will stop her on her journey!