GENIE DAVIS, RIOT MATERIAL, NOVEMBER 18, 2019
MORPH: Transformation In Technicolor
NOVEMBER 18, 2019 BY GENIE DAVIS LEAVE A COMMENT
at Mash Gallery, Los Angeles (through December 21)
Reviewed by Genie Davis
The group exhibition MORPH is thematically about transformation, boundary pushing, and serves as an exhilarating tour de force by the artists as they explore edgy, surreal and transitory forms. But more striking perhaps than its theme is its color. Vibrant, dazzling, surprising and strange, mixed with heightened, dimensional textural elements or purely 2D ink and paint. It is that technicolor vividness that grabs the viewer first, almost daring the eye to enter thrillingly into its radiant, reality-bending dimension.
MORPH offers many fine surprises in its bright wash of color and mixed media. Curated by gallerist Haleh Mashian, who also presents many of her own works in the show, the artists are as varied as their techniques and their images yet bound together through their bright palettes and focus on the human form, primarily female.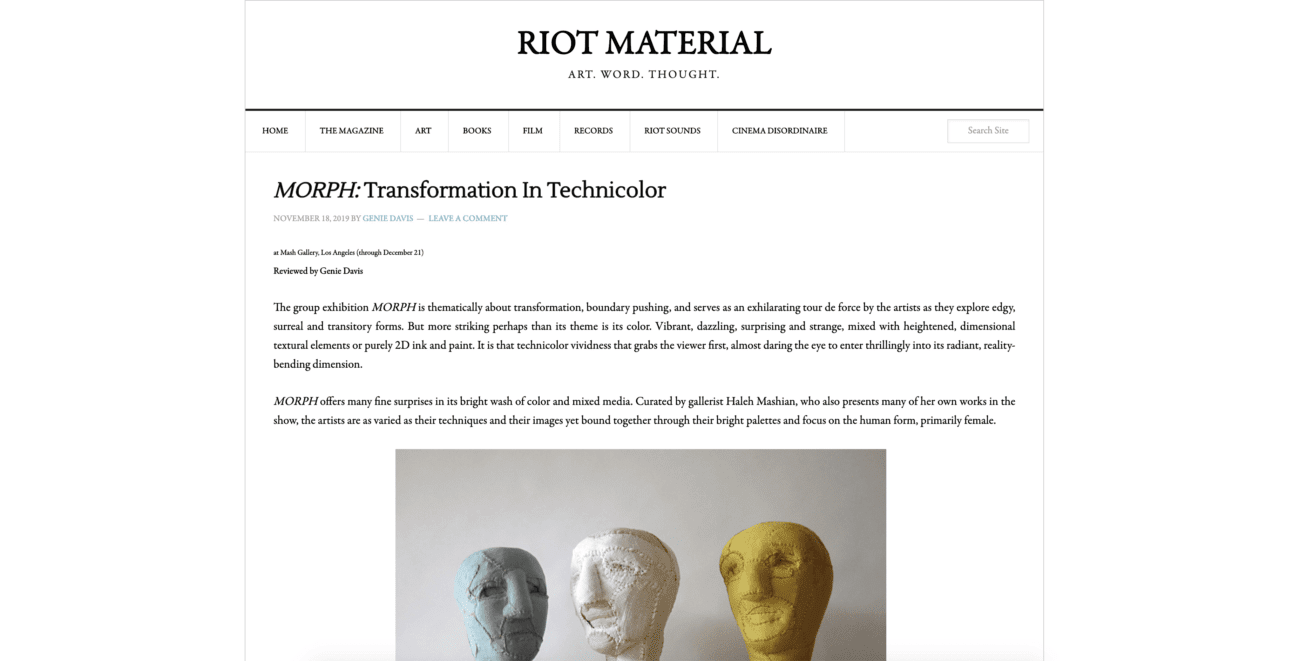 Artist Samuelle Richardson
Samuelle Richardson's fabric sculptures, made of linen and thread, offer evocative facial expressions and a mysterious affect. Her series Head 3, 5, and 6 are aqua, white, and mustard yellow head-only busts positioned on contrasting color fabric blocks. They are both real in their expression and surreal from the standpoint of their caught-in-life expressions shown on seeming dismembered heads. They are captured and preserved in the same way that a hunter might exhibit the head of some prize game. Spread across several pedestals, the sculptures' position in the gallery creates an extra layer of depth to the overall curation.
Artist Molly Morning-Glory
So, too, does the ceramic works of Molly Morning-Glory, whose own heads resemble totems or tribal carvings. With Indecision (see slideshow below), the viewer observes two slightly askew halves of a face, one striped in purple, the other a bright chartreuse. Both have multiple eyes, stacked one above the other. Her You, Me, We also has three eyes, but the face, in an earthen shade, is all of one piece, and is mottled with muted color reminiscent of sedimentary rock.
Artist Erik Mark Sandberg
The work of Erik Mark Sandberg is both surreal and pop; hot pink melted strands of what appear to be clay create distorted, almost pained images of a woman in his photographic prints The Washing and Girl Before the Washing, in which her long tendrils of hair or fur appear brown against her vivid pink skin. The eyes are dark, empty caverns in both, and she is more wraith than girl; we are both drawn to and repelled by her. She is a cocoon from which something else – but what? – will emerge.
Sandberg's large scale painting, Sky with Leopard Print Tee and Boots, created with ink, acrylic, and oil, also gives us a hot-pink shaggy woman. Here, her furry visage is at ease, and she's clothed and reclining. Her red lips emerge from what looks more like fur than melted strands of clay. Her green, black and orange leopard top, lavender fluffy skirt, and bright nails are all set against rich green grass. Behind her, abstract forms seem to drip, a forest without discernable trees. Her eyes are black ciphers as well, but there is no pain within them. Is this pre-transition or post-morphing? Was she once more human and has adapted to this new shape? The artist's urethane and acrylic Girl with Striped Swim Suit sculpture exudes even more calm – perhaps the ultimate in acceptance of this lifeform – we see no eyes at all, just a mass of curled, paler pink strands and whorls obscuring her upper face.
Artist Corey Lamb
Corey Lamb's works Flower, and Flower II also gives us vivid colors – bright yellow hair that glows, rich red lipstick on one girl, deep emerald backgrounds – and melting faces. We see no eyes at all here. Rather, there is an intensely thick application of paint masking those "windows to the soul."
Artist Alexander Varvaridze
The clearly recognizable women in Alexander Varvaridze's oil works are splattered with abstraction, eyes present but obscured, paint dripping like emotion across faces that exhibit thin lines like scars. Deep pink, red, and black are the palette in What's Wrong – which could be possibly everything. Dynamic Thought Forms gives us a male figure, judging by the red polka dot necktie, with his face hidden behind an erupting firework of pink and red. The artist's full-figure nude, resembling a ballet dancer posed gracefully upon a stool, sits discreetly cross-legged, her face and part of her upper body erased in a layer of paint that veils her, in Breaking Silence. The abstract elements seem to represent feelings and thoughts yet they also repel our understanding of them; they distance even as they define emotion.
Artist Jordan Betten
Jordan Betten's abstract faces, both oil and oil with acrylic, are a psychedelic, fractured series of lines, pieces, mosaic-like bits, from which we can discern mood more than expression. Betten's Self Portrait looks like shattered stained glass rendered in paint.
Jayne Anita Smith's Bruised is also a work of bright color and melted, abstract/surreal form; a face that is both sad and haunting, a dark blue bruise standing out against a dripping, paint-weeping pastel pink face. The rich gold of her hair, the fresh-blood-red of the background, appear as a raw cry for change. In contrast, Smith's burnished gold Floater has already transitioned to someone who can levitate against the vicissitudes of life. Like Betten's work, Smith's evokes the sensation of colored glass or mosaics in its patterns.
Artist David DeWeerdt
In contrast, David DeWeerdt's Untitled works are calm figures. Their faces appear veiled, as with fabric, the silvers, golds, and burnt sienna in one full-body work, the woman with leg crossed under her is graceful and still; while in another work, a purple-faced woman is captured like an acrobat or diver, her face pointing down, both in motion and at ease. In a third untitled work, a woman appears to be washing her chartreuse hair. These are beautiful, evocative pieces, the medium of acrylic and ink on PVC creating an illusion of wetness, as if the image could wash away before our eyes.
Artist Serge Serum
Serge Serum's colors veer to brown with spots of bright color mixed in. There is a violence in Serum's work, quite viscerally so in the multi-figure fight depicted in Possessed at Harms Length. It is more obscurely expressed in the fierce, angry eyes and off-center portraiture of Flowers for Katie, whose blooms are tattooed across her face and chest in ripe purples, rose, and bright periwinkle blue.
Artist Haleh Mashian
And then there is the mutable, deeply layered mixed media on canvas or wood works of gallerist/curator/artist Mashian. One of the largest pieces, glittering with gold, is Ate in which a midnight-skinned woman with flowing black hair, clad in a shiny gold dress, seems to emerge from a cluttered urban landscape, a goddess of the city. Pressed against her hip, what appears to be an artist's palette – a lovely metaphor for having painted herself into or out of this town.
Mashian's Selene, Goddess of Moon is an image with an obscured face, but the artist takes a different approach than do others exhibiting. Here, the goddess is hidden behind a mask or a living creature she is merged with, a creature or mask which has opalescent arms or petals and a bright green, rose-like, textured center. A lighter dynamic shade of green paint is dripping and splattered behind her and on her mostly purple dress; she may be growing into or out from the earth.
Each of Mashian's images here represent goddesses – a glowing white-hot Venus 3 emerging from darkness; a gold and green fecund princess in Demeter, Goddess of Harvest. Her Goddess of Mutant takes the viewer firmly into the realm of the surreal; the white, thick cream cheese-like consistency of her hair is cousin to the fur/hair dripping pink in Sandberg's photographic work and sculpture.
Overall, MORPH is a dramatic, bright, colorful commentary on birth, rebirth, and change. The figures in these paintings, sculptures and mixed media works are a strange and wondrous muddle of Becoming: what they are becoming, what they are changing to or from, is up to the beholder to assume and imagine. We see both blossoming and consumption; loss and transcendence. If the only constant in life is change, then life is constantly changing on these gallery walls, and as viewers, we are morphing along with them.