Mash Gallery is proud to present "Luxury Adjacent", a group exhibition 
OPENING
July 9 from 6-9pm. 
SHOW
July,9th – August 20th.
Tuesday – Saturday 10am-6pm
or by appointment.
323-27-3235
Los Angeles CA 90069
Luxury Adjacent artfully captures the consumer culture by exposing its ridiculously glamorous and artificial approach to everyday life in a playful and lighthearted way. The clever use of bright colors and lively imagery evoke a seemingly comfortable and warm sentiment while simultaneously challenging our beliefs with a sense of unease.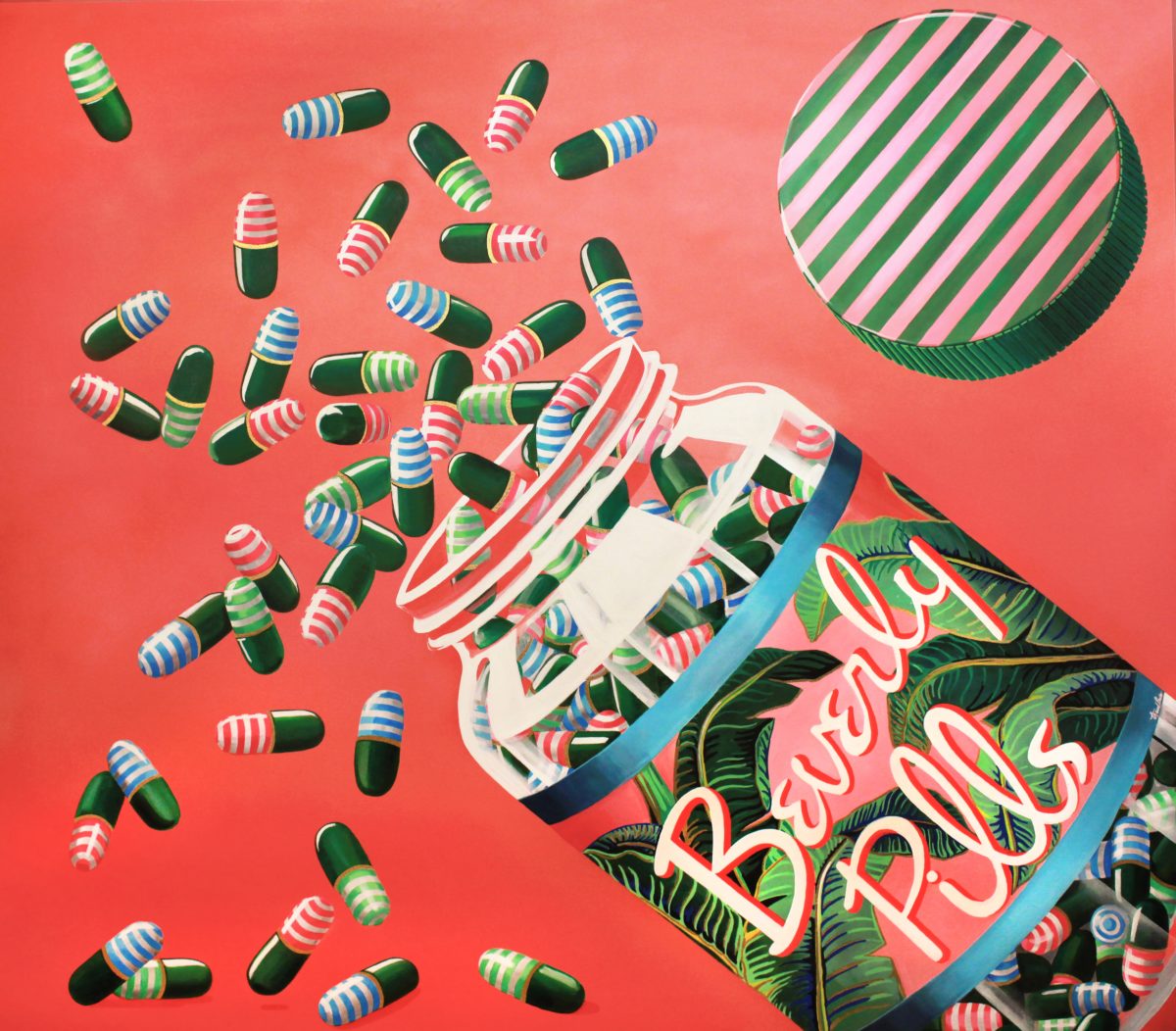 Emotionally removed and coolly ambivalent, each artist in this exhibition uniquely questions what it means when we are addicted, yet unwillingly repulsed by the desire for all our pretty things. It's a dialogue between the suggestion of an acceptance of the popular culture and a shocked withdrawal of its empty promises.
($10 Valet Parking Available)
Participating artists include:
Trew Love
Contemporary artist Trew, works deeply with the element of surprise, whether that be an unexpected material or a shocking message. Trew envisions a world where art bonds us, celebrating our similarities and providing a light-hearted take on our differences. Trew creates to inspire and uplift, incorporating elements of dry humor, bright colors, and neon light to brighten our spaces and our spirits.
Marko Gavrilovic
Marko's work conveys a universal message, where constant flux of this world and its opposites, appears to coexist simultaneously. Marko's work is philosophical without it being too referential. It's up to the viewer to pass through the gates of consciousness. Or, become trapped in the quagmire of crowded cities, greed, and survival. Graduating from the Academy of Applied Arts and Design in Belgrade, Serbia. He works in acrylics, sculpture, design, illustration and drawing. He founded a NOTUS LIGHT STUDIO in 2002.
Jon Pannier
Jon Pannier (American, born 1965) is a New York-based artist whose work examines cultural transformations of the last 50 years. From the 1960s explosion of advanced psychopharmacology to the unabashed hedonism of the 1970s, to the game-changing current political climate, anything that fuels the zeitgeist of a particular era is the inspiration for Pannier's narrative. He creates representational works, overlaid with meaningful symbolism, to reveal facets of our society that have ignited profound and lasting social change.
Pannier was a creative director in pharmaceutical advertising until 2016 when he decided to pivot focus to his fine art practice. Inspired by his former career, his approach incorporates commercial art techniques like graphic design, textile repeats, and fashion illustration. He often uses a hybrid method that combines digital printing and traditional print production methods like silkscreen. Pannier lives in Manhattan and reverse-commutes to his studios at Mana Contemporary in Jersey City, NJ.
Haleh Mashian's art has colorfully illustrated her unique, astute view of the world, both real and imagined.  As a  contemporary mixed media art painter and creative expressionist, Mashian's abstract works reveal her appreciation of color theory, compositional form and the study of positive and negative space. Working in mixed media and using a variety of techniques from collage to impasto, a repeated layering and application of paint, Mashian's dynamic pieces range from smaller artworks that can be arranged together to large-scale paintings. Her large-paneled abstract art have been exhibited nationally in Los Angeles, Miami, and other art enclaves and is included in private collections in the United States and abroad. 
Her creativity extends into other forms as well. Haleh has included fashion design, digital art, and music into her repertoire of boundless expression. She is the Founder and Lead Designer for MASH City, her innovative men and womenswear collection. Originally from Iran, she is a longtime resident of Southern California with a Studio in Santa Monica where she lives with her husband and two children.
Join our art community at Mash Gallery for Contemporary Art
"Luxury Adjacent"
July 9th – August 20th 2022
Tuesday – Saturday 10am-6pm
by appointment or
323-272-3235
info@mashgallery.com
Los Angeles, CA 90069