Haleh Mashian returns with the À GOGO II exhibit which debuted Feb 17 at W Hotel Hollywood in conjunction with Frieze LA, and now runs until March 26 at Mash Gallery, 1325 Palmetto St. Ste 130, Los Angeles, CA 90013.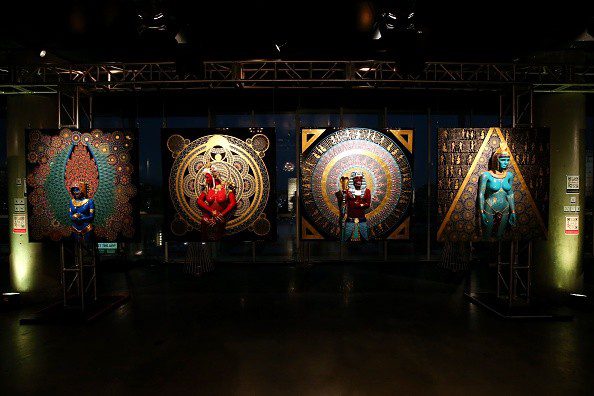 Stepping into the W Hotel's Penthouse was like walking into a dream. The colors, the clothing, the laughs, the smiles. Southern California's artist community is alive, thriving and we were all in this room celebrating.
Throughout the gallery, along the pool and the cityscape view, it was an enchanting night with every detail inspired by the vision of Haleh Mashian. Two years of precise dedication and commitment have paid off to ensure the 2022 exhibit is a stunning and memorable experience for all artists, art lovers and the creative Los Angeles community. Mashian has diligently earned a reputation as a perfectionist and has an eye for selecting the very best in art which was evident at the extravaganza. The four hour event was filled with positive and light energy as the sounds of the DJ pulsed and Mashian even managed to fit fabulous fashion shows in every thirty minutes throughout the evening, a diverse selection of models wore Mashian's own stunning clothing collection called Mash City which has been featured in many magazines, including Forbes.
This assertively dynamic, raw, edgy and uplifting exhibition explodes into a visual ecstasy. Multimedia paintings, three-dimensional hybrids of sculpture and painting, and beautiful sculptures illuminated the space and now fill Mash Gallery. The featured artists include: Sarah Bereza, Isabell Beyel, Willam S. Dutterer (Catalyst Contemporary), Carrie Fell, Marko Gavrilovic, MGGZ711, Nathie Katzoff, Trew Love, Haleh Mashian, John Monn, Andy Moses, Rachel Nelson, Kenny Nguyen, Moises Ortiz, Luis Sanchez, Aman Shekarchi, and LeRone Wilson.
Mashian has been climbing the curatorial ladder with increasingly exciting and innovative exhibitions securing her place as a creative force in the Los Angeles art community as an accomplished artist and philanthropist. Her passion and commitment to her gallery and supporting her fellow artists is second to none. "I am absolutely thrilled with the results of the show's debut. A wonderful turnout of art fans, collectors and media. The response to the art, artists and the fashion shows was spectacular. We couldn't have asked for more and we are looking forward to having the show at the Mash Gallery until March 26th," said Mashian.
All in all, the show, scheduled in conjunction with Frieze LA's opening night, was a tremendous success. Hopefully there are many more to come! And don't forget, there is another event at Mash Gallery on March 26th to mark the end of the show.
Press:
https://www.pressparty.com/pg/newsdesk/peakprgroup/view/282734/