ADAM CETORELLI, ENSPIRE MAGAZINE, DECEMBER 21, 2020
Haleh Mashian has been an expressionist painter for three decades, and recently expanded her repertoire with the openings of her own fashion line and art gallery. Her MASH City clothing brand celebrates digital art and streetwear, offering fun, original prints on hoodies, leggings, bomber jackets, and more.
Originally from Iran, Mashian is a longtime resident of Southern California. Located in Downtown Los Angeles' Arts District, her MASH Gallery offers temporary exhibits that feature works from contemporary LA artists. Read the interview with Mashian below to learn more about her career as an artist and the MASH City fashion line!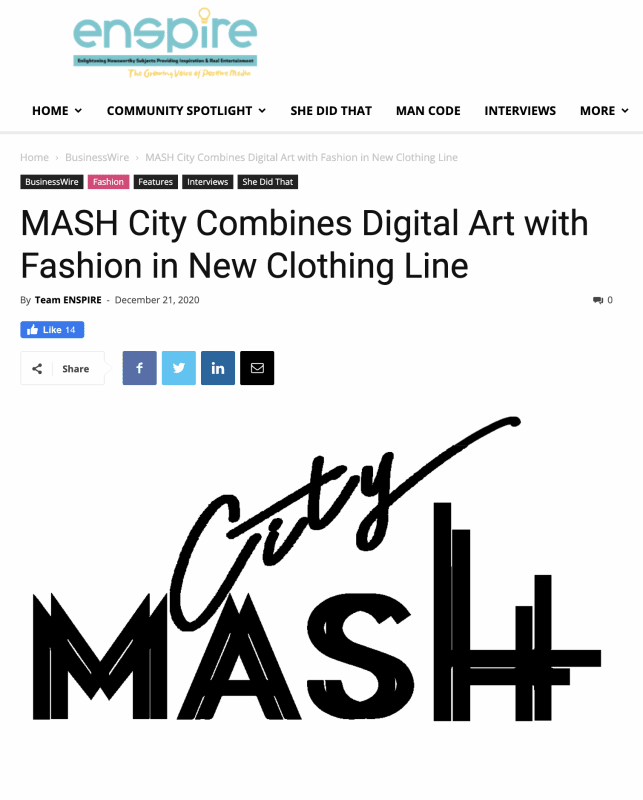 When did you begin your art career, and how long after did you start creating fashion?
It's hard to tell exactly when I began my career. I've been painting for close to 30 years now and have been selling my art throughout―mostly to private collectors. I started MASH Gallery (located in Downtown Los Angeles' Arts District) about 2 years ago and created my fashion line MASH City around the same time.
What led you to finally make the leap into the fashion world?
I always believed people are a work of art themselves and every person is a canvas with many facets of creative expression ready for manifestation. I wanted to create a conversation in everyday life involving fashion while people are part of the installation. Art doesn't only belong on the walls. It can be also worn by people. Life is serious as it is, and if we can take a piece of art with us everywhere, why not? It's a good reminder that creativity is life.
You're LA-based―are the clothes produced in LA as well? What can you tell me about the manufacturing process?
Some of my pieces are manufactured in Los Angeles, but most of them are manufactured in Europe. With the rapid change in retail and online shopping and fast-paced life and ever-changing fashion where everyone is looking for novelty and everyone constantly wants to stay stimulated the process of manufacturing has changed completely, in my opinion. I want to stick to the basics while not being basic. The strength of my line is the authentic art, the placement of the image on the garment, and the story it tells. MASH City is all about merging art and fashion into one.
Do you create art that is exclusively used for the clothing, or do all clothing prints come from works of art that you showcase online/in your gallery?
Almost all of my fashion pieces are based on my digital paintings. I try to keep my contemporary painting practice separate from my digital practice that appears throughout my fashion & lifestyle brand MASH City. 
What are you excited about for 2021?
I'm excited about the unknown because that's where the growth is. I'm excited to test my own metal and see how much I can thrive in this chaotic world. I'm excited about honing in my vision as an artist and business owner to find a more creative approach to reach my audiences while staying true to my vision and bringing love, beauty, and creativity to my community. I'm excited to be inspired and to inspire. 
Visit https://mashcity.art to see the full collection of MASH City streetwear, or stay up to date with the latest releases from Mash City by following their Instagram!